Skip Navigation
Website Accessibility
Greetings from Sew Fabulous
What's Happening
Things are warming up around here - inside and out. My air conditioner at the store decided to hybernate a little bit longer so I have maintenance working on it on today.

I've been busy straightening out my thread inventory so now it is all available online through our website, though you can still buy it in the store. You can go to Thread (mysewfab.com) to see all available items. The color should be fairly true on the website. You can order online or go there to see what we've got (you will need to click the item to see if it is in or out of stock). I'm still waiting for my shipment of Aurifil, it's only been on back order since March!

New MUST-HAVE Items
The Gypsy Quilter: This wooden clapper is great for setting your pressed-open seams so they stay flat. If you've never used one, you should try it - you'll love it! We have the large (11 1/2") for $29.99 and the small (7 3/4") for $24.99.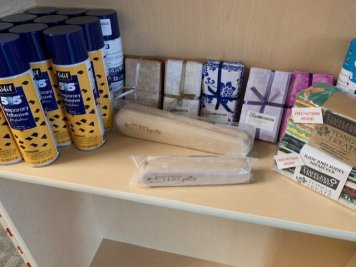 ISACORD Color Card: ($39.99) If you're an embroidery enthusiast, you will love this visual tool. It shows all the Isacord colors in actual thread - you won't be misled by printed copies, these are truly the actual colors. You can see them with your project in the environment you work in so you have the best match. These are hard to get and I only have three. Get yours today.


Clover White Marking Pen ($6.75) and Clover 1/4" Fusible Quick Black Bias ($14.99): The pen marks on dark fabric so you can actually see it (don't be fooled, it shows up after a few seconds and disappears with heat from an iron or wipe off with a damp cloth). The bias tape is great for the stained-glass look on your projects.

COMING SOON: Quilters Select Rulers. If you haven't tried these fantastic rulers with 'gription', you'll be amazed when you do. Watch my newsletter, Facebook and Instagram for the announcement of when they are available. We'll be doing a 'Make and Take' Saturday with these - you can count on it.

Upcoming Events
Snap Dragons: Wed, May 26, 1:00-4:00
Thursday Sit 'N Sew: From noon-5:00. We have a few regulars - would you like to be one, too? Just give me a call at the store - 269-459-1725



Memorial Day Weekend Events

:

Specials
Don't forget to watch for the Saturday Sale announcement on Facebook/Instagram on Thursday. Looking forward to seeing you then.

Have a great week.
Heidi