Skip Navigation
Website Accessibility
Greetings from your friends at Sew Fabulous
Hello From Sew Fabulous,
WHAT'S HAPPENING
After a few very steamy days in Southwest Michigan, we had a wonderful weekend weather-wise. I was able to go to Binder Park Zoo (in Battle Creek) with my family; the grand kids had never been there. It was so nice to get outside and enjoy the fresh air and see other people enjoying it too. I hope you had a great weekend.
NEW/INTERESTING ITEMS
Singer Ironing and Crafting Station: This is an oversized ironing board with a utility drawer. The drawer would be great for holding scissors, small container of pins, pressing sheets, etc. The cover is marked in inches up one side and and across the bottom so you can judge the size of your blocks as you iron them. And, the iron landing pad can be moved from right to left depending on where you want to set the iron down. I have a few of these in my inventory right now. The sale price is $299 (MSRP: $399). Stop in and get yours this week.
Speaking of ironing...I also have a couple of the powerful SteamCraft Plus irons in stock. With 1750 watts of power, it is very quick to heat up and provide the steam you need for that project.
SPECIAL PROGRAMS
Even though our Grand Opening Event is over, we are still celebrating with 10% off all COAs through Sept 5, 2021. Be sure to bring in your machines to get them tuned up and humming!
BERNINA NEWS
If you own a Bernina 770, you'll be excited to know there is an upgrade coming to that machine. The upgrade will give you more enhanced embroidery capabilities. Please contact me here at Sew Fabulous (269-459-1725) if you would like to pre-order this package. The upgrades are expected to be made available later in October.
Also, for you embroidery enthusiasts, the new version of DesigninerPlus is available. Please call me and let me know if you need to purchase DesignerPlus V9 or if you need the upgrade - you can purchase the upgrade if you already own one of the versions listed below.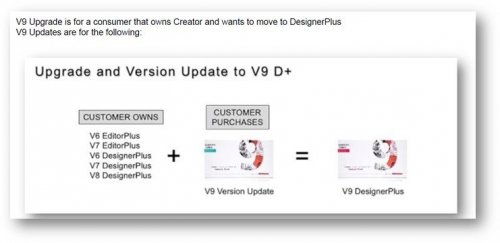 UPCOMING EVENTS
Wed, Aug 18 @ 9:30-Noon: Portage Quilters (this is a members-only group)

Wed, Aug 18 @ 1:00-4:00: Wool Applique Club, led by Jan Kirkpatrick. They've been having a great time in these sessions. If you enjoy wool applique, please signing up @ www.mysewfab.com Cost: $6

Thurs, Aug 19 @ Noon-5:00: Sit 'N Sew. This a fun time to just hang out and have fun. Bring a project or two/bring a friend or two. Please sign up @ www.mysewfab.com Cost is $3 which can be applied to your purchases that day.

Sat, Aug 21 @ 10:00-3:00: Binding Bag for Tools and Accessories. This is a fun little bag to make. It can carry so many of your tools and accessories. There is some pre-work including cutting all the pieces. If you're interested, please come in, sign up and purchase the pattern before end-of-day Wednesday so you have time to prepare. Cost: $25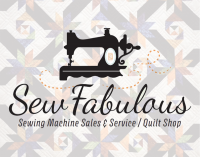 600 Romence Road, Ste 130 (in the Hillside Center)
Portage, MI 49024
(269) 459-1725
sewfabulous.mi@gmail.com
www.mysewfab.com
From I-94W take Exit 76, stay left to go south on Westnedge Ave.
Turn right on Romence Rd.
Turn right into the Hillside Center drive, just past the mall entrance on Romence Road.