Skip Navigation
Website Accessibility
Greetings from your friends at Sew Fabulous
Hello From Sew Fabulous,
WHAT'S HAPPENING
I'm sure you've all see the news about the damage being caused by Hurricane Ida. Let's all send our thoughts and prayers to those people who have been impacted. It's hard to believe that it's been 16 years to the day since Hurricane Katrina. It's amazing to see the resilience of the American people.
NEW/INTERESTING ITEMS
I am excited to report that the panel for Astral Vision has arrived.


However....I'm still waiting on 2 of the fabrics needed for the kits (the light color in the stars and the blue border print, although we have another print that will work for the border). If you need just the panel and the northern lights prints, please stop in and see us.

I'm very excited about getting the Holiday Collection from Moda (it's not year yet but I'm expecting them soon) that can be seen in the Fat Quarter Shop's Mystery Bats & Boos Quilt. I think this is the cutest quilt and it has a fun little cross-stitch project you can do, too. Check out the first video on YouTube here.
If you haven't seen the Scarlet Stitches & White Linen quilt, you gotta stop in the store. Lonny did a fabulous job - the picture really doesn't do it justice; it's so much more impressive in person. We have the kit all ready for you take on this amazing project.
SPECIAL PROGRAMS
BERNINA:
The accessory for the month of September is the Circular Attachment. This is a fun tool that makes specialty stitches look like full-on embroidery. It's so much fun. Jan and I made some samples last week - come in a check them out.
ATTENTION 770 OWNERS: The upgrade is here! Please let me know if you are interested so I can get your order in as soon as possible. (269-459-1725)

The Digitize Plus V9 software is coming soon. They've had some delays due to the supply of the necessary computer chips. Please call me and let me know if you want this so I can get this order in, too.

UPCOMING EVENTS
SEW FAB ESCAPE
Friday and Saturday, Sept 17-18. Doors will open at 9:00 am and close at 9:00 pm. For these 2 days, participants can arrive and leave whenever they want within these times. Bring your own projects and work as much as you want. Price includes lunch both days and there will be gifts for all and prizes for some. It promises to be a lot of fun so get some friends together and sign up soon. Cost is $80. Sign up @ A Sew Fabulous Escape (mysewfab.com).
SEWING/SERGER CLASSES
SERGER BASICS - Sept 3 @ 10:00-noon: Basic use and maintenance of your serger. The focus of this class will be on learning how to thread and use your serger. Be sure to bring your manual because all machines are just a little different. Cost is $25 (2 seats remaining). Sign up @ Serger Basics (mysewfab.com).
CREATIVE KIDS
Sept 25 & Oct 2 - 10:00 - noon: This is a 2-session class intended to introduce young people (ages 7-10) to sewing. We will learn the basics of a sewing machine and will make a peice of art. Cost is $30 and includes the 2 days of instruction and all supplies needed for the project. Sign up @ Creative Kids Class (mysewfab.com).
ADVENTURES IN SEWING
Teens (11-18 years old) Sept 15, 22 & 29 (Sign up @ Adventures in Sewing (TEENS) (mysewfab.com)
Adults (18+) Oct 6, 13, 20 (Sign up @ Adventures in Sewing (ADULTS) (mysewfab.com))
This 3-session class is to introduce you to clothing construction and basic sewing skills. Be sure to check out the class description and list of items to bring for each session.

THURSDAY AFTERNOON SIT 'N SEW
Noon-5: Drop in and sew, knit, or just chat. Cost is $3 which can be applied to a purchase that day.
CLUBS:
WOOL APPLIQUE CLUB: Next meeting is Sept 15 @ 1:00-4:00. Wool Applique Club (mysewfab.com)
EMBROIDERY CLUB: (Beginners) Next meeting is Sept 24 @ 1:00-4:00. This class fills up quickly so sign up soon. Sew Fab Embroidery Club Adventure (mysewfab.com)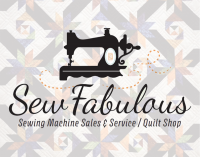 600 Romence Road, Ste 130 (in the Hillside Center)
Portage, MI 49024
(269) 459-1725
sewfabulous.mi@gmail.com
www.mysewfab.com
From I-94W take Exit 76, stay left to go south on Westnedge Ave.
Turn right on Romence Rd.
Turn right into the Hillside Center drive, just past the mall entrance on Romence Road.