Skip Navigation
Website Accessibility
Greetings from your friends at Sew Fabulous
Hello From Sew Fabulous,
WHAT'S HAPPENING
The Youth and Teen sewing classes have been going well. We're looking forward to the adults class to start on Oct 6. We'll be learning sewing basics and making a simple pair of elastic-waist pants (like pajama or lounging pants). If you're interested, please go to https://mysewfab.com/module/class.htm?classId=419612 and sign up. Space is limited so sign up soon.

Here's a cute little bag to make from your designers at Janome

Wide Backs are here - 108" wide
BERNINA SPECIAL PROGRAMS through Thursday

Click here to learn how to use this attachment for a cute holiday ornament.
LOOKING FORWARD: Super Saturday is coming up - OCTOBER 16, 2021

October's Accessory of the Month is:

Click here to see Tips on using the Jeans Foot.
UPCOMING EVENTS
Wednesday, September 29
5:00-7:00 - Adventures in Sewing (Teens)

. This is session three. See Adventures in Sewing (TEENS) (mysewfab.com) for requirements for this session.
Thursday, September 30 (can you believe it - the last day of September)
9:30-12:00 - Applique Group

. This is a closed group associated with the Kalamazoo Log Cabin Quilters Guild. Information about this guild is available at the store.
12:00-5:00 - Sit 'n Sew

. Cost $3 which can be applied to a purchase that day.
Saturday, October 2
10:00-Noon - Creative Sewing (Youth)

. This is session two for Creative Kids Class (mysewfab.com).

Coming up next week: We still have room for students in the Adventures in Sewing (Adult) sessions that start October 6. This is a 3-session class where you will learn how to measure yourself for garment construction, about fabric selection and preparation with the outcome of making a basic pair of elastic-waist pants in the third session. Please go to Adventures in Sewing (ADULTS) (mysewfab.com) to sign up for this fun class.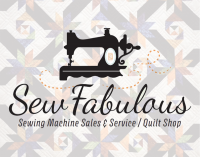 600 Romence Road, Ste 130 (in the Hillside Center)
Portage, MI 49024
(269) 459-1725
sewfabulous.mi@gmail.com
www.mysewfab.com
From I-94W take Exit 76, stay left to go south on Westnedge Ave.
Turn right on Romence Rd.
Turn right into the Hillside Center drive, just past the mall entrance on Romence Road.