Skip Navigation
Website Accessibility
Greetings from your friends at Sew Fabulous
Hello From Sew Fabulous,
WHAT'S HAPPENING
Hello my friends. We're over the hump of October; I don't know about you but I love the milder temperatures. The fall colors are beautiful. We have several fall-themed fabrics in the store. Now would be a great time to pick up a few to make some simple place mats and napkins for your Thanksgiving dinner table. What a beautiful table that would be! Ross is even working on a set for his house - his first sewing project and he's doing a great job.
NEW/INTERESTING ITEMS
BERNINA SMART DRIVE EMBROIDERY: We have a new 770QEE with Smart Drive in the store. Please drop in and have a look at it. It's faster and quieter than the other embroidery models.

We also have one Plus Upgrade for the 770QE available. Read all about it @ BERNINA.com. With this upgrade you get 2 new accessories (Adjustable Ruler Foot with slits and Couching Inserts), an additional mode for the BSR for basting, and some great features for embroidery.

Have you ever tried Free Fuse from Quilters Select? I've spoken to several people who love it. You just sprinkle and press to create a semi-permanent bond between most fabrics, battings and textiles.
GE Designs: We now have several patterns by Gudrun Erla of GE Designs. It's great if you have the Stripology rulers because it makes cutting these pieces so quick and easy, though the Stripology rulers aren't the only way you can cut the fabric for these patterns. We also have all three sizes of the Stripology rulers.
UPCOMING EVENTS
Wednesday, October 20, 9:30-Noon: Portage Quilters. This is a closed group. If you'd like information on joining this group, please call me at the store or drop in and I'll give you contact information.
Thursday, October 21, 9:30-Noon: A-Group. This is a closed group for KLCQ.
Thursday, October 21, Noon-5:00: Thursday Sit 'N Sew. This is open to anyone. Cost is $3 which can be applied to a purchase that day.
Friday, October 22, 10:00-Noon: Adventures in Sewing (Adults). Third and final session.
Saturday, October 23, 10:00-Noon: Serger Basics


Thanks everyone. I hope to see you soon.
Heidi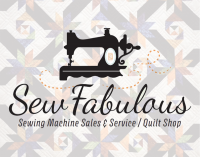 600 Romence Road, Ste 130 (in the Hillside Center)
Portage, MI 49024
(269) 459-1725
sewfabulous.mi@gmail.com
www.mysewfab.com
From I-94W take Exit 76, stay left to go south on Westnedge Ave.
Turn right on Romence Rd.
Turn right into the Hillside Center drive, just past the mall entrance on Romence Road.