Skip Navigation
Website Accessibility
Greetings from your friends at Sew Fabulous
Hello From Sew Fabulous,
WHAT'S HAPPENING
Guess the number of buttons
contest

November 1-13: We're going to have a little bit of fun here at the store. It's a 'Guess the Number of Buttons' contest. The prize is $25 Sew Fabulous Gift Certificate; there will be 2 winners: one from the online entries and one from the in-store entries. If there are multiple correct guesses, we'll draw from those names. One entry per person/per visit at the store.
Great
sewing machine
buys
PFAFF Enthusiasts, this is for you! In my store, we have one of the

last remaining Creative Icons

for sale. This is a very special model because it comes with the brand new Creative Icon 2 Embroidery Module. When you purchase this machine, you will have the option to sign up to trade-in your current model for the new Creative Icon 2 (stop in the store to see this amazing machine and get more details on this offer). This is the Pfaff top-of-the-line sewing and embroidery machine and I'd love to show you a few things it can do. Stop in and check it out.

BERNINA LOVERS: I have a deal for you! We have a 770QEE (that's the sewing machine with embroidery module) ready to go home with someone. The great news about this machine is that it comes with the 770 Plus Upgrade already installed (this is a $550 value). This is a beautiful machine at a great price. Stop in the store for more details.
Sit 'N Sew:
Thursdays, Noon-5:00 Don't forget this time is available to come in and sew or knit or whatever you enjoy doing. Just pack up your projects and come in and sit and chat for a while. Cost is $3 which you can apply to any purchases that day. (Click here to save your spot.)
Wool Applique Club:
Meets once a month on the 3rd Wednesday @ 1:00-4:00 here at the store. This month we have a special program, as follows. You can choose to make this cute festive mug rug or bring your own project to work on. (Click here to save your spot.)

Embroidery Club:
This is a popular program and regularly books up early. All seats are spoken for in December but I thought you'd like to see the project they'll be making. The club will be taking a break in December and will start up again with other fun projects in January. I'll be sure to let you know what that is as soon as we have it lined up. (Click here to see what's coming up.)



Adventures in Sewing Club:
This is a basic sewing class that will meet the 2nd Friday
of every month with a different project being presented. On November 12, Linda will share how to make a Poncho like this one. (Click here to save your spot.)

SPECIAL PROGRAMS
We offer financing on all our machine purchases (some restrictions apply). Please let me know if we can get your started with this.

Now is a great time to get that L890 with Overlock + Coverstitch. You know who you are!

BERNINA Accessory of the month is Foot #73 - great for free-motion stippling.


Pfaff has some great accessory packages available as well as financing offers.

Janome machines - many of them are on sale with free gifts included. Stop in and check them all out.


UPCOMING EVENTS
THIS WEEK:
Wednesday, 9:30-Noon: Portage Quilters. This is an open group. If you're interested, feel free to stop in and meet the group. Bring your machine and enjoy some quality time with other quilters.
Thursday, Noon-5:00: Sit 'N Sew. Cost $3, can be applied to purchases that day.
November 2-13: Guess the # of Buttons Contest. Stop in every day to enter your guess for a chance to win a $25 Sew Fab gift certificate.

NEXT WEEK:
Don't forget to sign up for the Adventures in Sewing because there will be a supply list you will need to bring to that class. We'll be sure to send the list to everyone who signs up at https://mysewfab.com/.

Thanks to all - hope to see you soon.
Heidi and Staff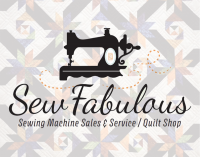 600 Romence Road, Ste 130 (in the Hillside Center)
Portage, MI 49024
(269) 459-1725
sewfabulous.mi@gmail.com
www.mysewfab.com
From I-94W take Exit 76, stay left to go south on Westnedge Ave.
Turn right on Romence Rd.
Turn right into the Hillside Center drive, just past the mall entrance on Romence Road.