Skip Navigation
Website Accessibility
Greetings from your friends at Sew Fabulous
Hello From Sew Fabulous,
WHAT'S HAPPENING
The contest to guess the number of buttons in the jar is still going on. There are 2 opportunities to enter: 1) online through my Facebook post, 2) in the store. Don't forget to fill out the form with your guess when you stop in.
Early Holiday Shopping
I enjoy celebrating Thanksgiving for what it is - a day to be thankful for what we have and the people we share our lives with. This being said, I wish the commercialism of the December holidays wouldn't infringe on Thanksgiving. But, the fact of the matter is holiday shopping has already begun and as a business owner I have to embrace this opportunity. So, I'll be posting possible gift ideas in my newsletters for your consideration. We will also have a Wish List form in the store that you can pick up and fill out to give to your loved ones. We also have gift certificates available in any amount at any time; just inquire at the front desk.
New Items and Gift Ideas
TASK LIGHTS: $49.99 / 5 in stock
ACCESSORY BAGS


BERNINA Semi-Hard Case has molded slots for all you feed and accessories. $149.99 / 2 in stock
BERNINA Soft-Sided Backpack/tote bag for managing projects on the go. $149.99 / 3 in stock
Pfaff Soft-Sided has zippered pouches for all your accessories or small projects. $70.00 / 1 in stock
NEW FABRICS:
Floralessence (Absolutely Georgeous!)
KIT:
Light from Within (We have 3 kits made. They include all the fabric for the quilt top. Backing and Binding are not included)
SPECIAL PROGRAMS
Coming in January
I know we have several people who love making bags. We would like to start a monthly bag making program here at Sew Fabulous. By Annie has a bag of the month program and we've found a fabulous person to make our samples and guide the monthly class. Would you be interested in a program like this? Watch the class listings on our website for the sign up. This should be a lot of fun!


BEGINNING QUILTING CLASS: This will be a monthly program that will teach quilt piecing basics. Besides basic tips on selecting and preparing your fabrics, you'll be practicing on basic blocks like Rail Fence, half-square triangles, embroidery and even foundation paper piecing. The result will be a large wall-hanging or modest lap-size quilt. Consider joining the fun - watch classes on my website to sign up.
UPCOMING EVENTS
TUESDAY, Nov 9, 9:30-Noon

: Caring Hearts

WEDNESDAY, Nov 10, 1:00-4:00

: Snap Dragons (KLCQ Member Group)

THURSDAY, Nov 11, Noon - 5:00

: Sit 'N Sew. Cost $3 which can be applied to purchases that day

FRIDAY, Nov 12, 10:00-Noon

: Adventures in Sewing Club. Cost $20. Sign up @ https://mysewfab.com - limited space available and there are a few things you need to bring with you. Sign up soon if you plan to come.
SATURDAY, Nov 13,: 9:30-4:00

: Scrappy Sisters (KLCQ Member Group)

Thanks everyone - hope to see you soon.
Heidi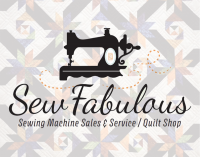 600 Romence Road, Ste 130 (in the Hillside Center)
Portage, MI 49024
(269) 459-1725
sewfabulous.mi@gmail.com
www.mysewfab.com
From I-94W take Exit 76, stay left to go south on Westnedge Ave.
Turn right on Romence Rd.
Turn right into the Hillside Center drive, just past the mall entrance on Romence Road.