Skip Navigation
Website Accessibility
Greetings from your friends at Sew Fabulous
Hello From Sew Fabulous,
WHAT'S HAPPENING
I hope you're all doing well this holiday season. What can I say about the weather? It's up, it's down, it's all around! My heart goes out to all those impacted by the violent weather in the southern states.
I hope you'll get a chance to stop in the store while you're out and about - we'd love to see you.
POP UP SALE for the week of Dec 14-18
NOTIONS AND GIFTS are 20% off.

There are a few exceptions:
* Anything already marked down as being on sale
* Leather Portfolios by Royce's Leathercrafts (these are here on commission so I can't mark them down. Sorry)
SPECIAL ITEMS
Checkout these beautiful Seam Ripper/Stylus tools. They were hand crafted by Kay Carr's son. I just love the shape for holding them in my hand. So useful!
We still have several entry- and mid-level sewing machines in stock and ready to go home. If you're thinking someone you love might like a new sewing machine, stop in and check them out.
UPCOMING EVENTS
Tuesday, Dec. 14 9:30-Noon (maybe a little later)

: Caring Hearts Holiday Celebration. This is a member only event.

Wednesday, Dec. 15 1:00-4:00

: Wool Applique Club. Open to all. Bring your own wool applique project to work on. You may also want to bring wool you no longer want and trade with others in the group. I hope you can make it. Cost is $6.

Thursday, Dec. 16 Noon-5:00

: Sit 'N Sew. Open to everyone. This is a great time to work on those last-minute gift ideas.
FUTURE EVENTS:
Embroidery Club: Jan 28 @ 1:00

. This is open to everyone but due to space limitations, it requires pre-registration. Please call or stop in the store to sign up. Cost is $10. Additional materials are required. See Sew Fab Embroidery Club Adventure (mysewfab.com) for more details including where to get the download for the design.
MARK YOUR CALENDAR: We'll be doing an In-Store Retreat Feb 4-5-6, 2022. You can sign up for any or all days - $25/day. Lunch will be provided.
* Doors will open for participants at 9:00 a.m. and will close at 7:00 p.m. each day.
* Once you're set up, you can leave everything there and come and go as you please.
* There will be a drawing each day for a small gift.
Thank you all! Please stay safe and healthy!
Heidi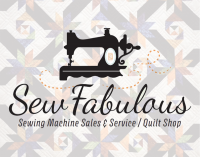 600 Romence Road, Ste 130 (in the Hillside Center)
Portage, MI 49024
(269) 459-1725
sewfabulous.mi@gmail.com
www.mysewfab.com
From I-94W take Exit 76, stay left to go south on Westnedge Ave.
Turn right on Romence Rd.
Turn right into the Hillside Center drive, just past the mall entrance on Romence Road.