Skip Navigation
Website Accessibility
Greetings from your friends at Sew Fabulous
Hello From Sew Fabulous,
WHAT'S HAPPENING
Good-bye 2021 - Hello 2022! I don't know about you but 2021 seemed a little better than 2020. Here's hoping the trend continues and 2022 is better than 2021. Have you made your New Years Resolution?


SPECIAL PROGRAMS
This week:
All PFAFF and JANOME accessories in stock will be 20% off.


UPCOMING EVENTS
THIS WEEK
Tuesday

, Dec 28 4:00-6:00: Bias Squares (KLCQ Group)
Wednesday

, Dec 29 1:00-3:00: Creative Kids Sew (Seats still available - see https://mysewfab.com for more details)



Thursday

, Dec 30 Noon-5:00: Sit 'N Sew
Friday

, Dec 31 Closing @ Noon
Saturday
, Jan 1 Closed
LOOKING AHEAD
Wednesday

, Jan 5 1:00-3:00: There will be one more session of Creative Kids if there are any that haven't returned to school, yet. See https://mysewfab.com for more details.

Friday

, Jan 14 10:00-Noon: Adult Sew. We'll be working on a skirt or slacks. Call the store for more details.



Fri-Sat-Sun

, Feb 4-5-6: Sew Fabulous In-House Retreat. We still have a few places left for this in-house retreat. For all the details, see https://mysewfab.com. Call or stop the store soon to sign up.



Keep an eye out for our Beginner Quilters Class

. This class is intended for those who are relatively new to quilting. We will share all sorts of tips and tricks to planning, cutting and piecing your quilt tops starting with a Fence Rail block and building up to a foundation paper pieced block and applique. If you're interested in this class, please send me an email @ sewfabulous.mi@gmail.com and let me know what days and times are good for you. I'll try to find a good time that will work with most responders.

I wish all of you a very happy and safe New Year.
Heidi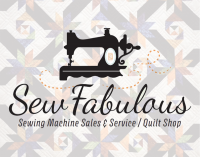 600 Romence Road, Ste 130 (in the Hillside Center)
Portage, MI 49024
(269) 459-1725
sewfabulous.mi@gmail.com
www.mysewfab.com
From I-94W take Exit 76, stay left to go south on Westnedge Ave.
Turn right on Romence Rd.
Turn right into the Hillside Center drive, just past the mall entrance on Romence Road.