Skip Navigation
Website Accessibility
Greetings from your friends at Sew Fabulous
Hello From Sew Fabulous,
WHAT'S HAPPENING
HAPPY 2022! I hope you had a safe and joyful entrance to this new year.
The Sew Fab In-House Retreat (Feb 4-5-6) is filling up. If you called to sign up and I haven't called you back, please call again (phone SNAFU). For more details, please see: https://mysewfab.com/module/class/433740/sew-fab-in-house-retreat. We'll be having more retreats throughout the year, so keep an eye out for the sign up announcements in our newsletter.

We're working on a "Learn to Quilt" program. This will be for new quilters to build their skills and learn various piecing techniques. I'm really excited about it because there are so many techniques we'll be working on to make this beautiful 46" x 58" quilt.
NEW ITEMS
MODA GRUNGE! We have 4 colors to start with. If you're a fan, come in and check them out and let us know you want more.
b
SPECIAL PROGRAMS
BERNINA ACCESSORY OF THE MONTH
All Sewing Machines below MRSP.
UPCOMING EVENTS
Wednesday:
Portage Quilters: 9:30-Noon
Creative Kids: 1:00-3:00
Thursday:
Sit 'N Sew: Noon-5:00. All are welcome. Cost: $3 which can be applied to a purchase that day.
Saturday:
Scrappy Sisters: 10:00-4:00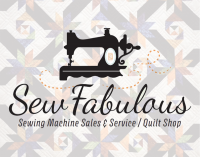 600 Romence Road, Ste 130 (in the Hillside Center)
Portage, MI 49024
(269) 459-1725
sewfabulous.mi@gmail.com
www.mysewfab.com
VIRTUAL TOUR: https://goo.gl/maps/SgXsRD12dAa1NU4s5

From I-94W take Exit 76, stay left to go south on Westnedge Ave.
Turn right on Romence Rd.
Turn right into the Hillside Center drive, just past the mall entrance on Romence Road.