Skip Navigation
Website Accessibility
Greetings from your friends at Sew Fabulous
Hello From Sew Fabulous,
WHAT'S HAPPENING
Happy Monday! I hope everyone is doing well. We have been busy at the store getting more machines, fabric, notions and thread.We're expecting several bolts of batiks any day now. I'll let you know as soon as they arrive.


NEW/INTERESTING ITEMS
We have several wonderful machines ready to go home with you including the Bernette 77. This is one of our best-selling machines. It's SEW MUCH FUN! The Bernette 38 is a great machine, too!
,
Here's a wonderful travel machine from Janome - Isn't this sweet!
Janome 6700 is one of Janome's Best Sellers. The 9450 is a dream machine with great lighting.
Coming soon, the Janome HD9 which is a high speed straight stitch machine. Have you ever wanted a machine that just does straight stitch for your quilt piecing? Well this is the ONE! Super Fast.
Ross's assistant, Holly, was helping him in the store on Monday.
SPECIAL PROGRAMS
Sew Fabulous In-House Retreat. I will be calling everyone who has signed up for this event to see what they want to do. I want everyone to be comfortable and if postponing until April would be beneficial, I'm open to that option. If you haven't signed up for this fun-filled weekend in February, please call the store @ 269-459-1725 and sign up.
UPCOMING EVENTS
Tuesday, Jan 18: 1:00-4:00 Cathy's Caps
Wednesday, Jan 19: 9:30-Noon: Portage Quilters
Wednesday, Jan 19: 1:00-4:00: Wool Appliqué Club. $6
Thursday, Jan 20: Noon-5:00: Sit 'N Sew. Cost $3 which can be applied to a purchase that day.
Looking Ahead: It's not to early to sign up for the next Embroidery Club Event on January 28. For details, see https://mysewfab.com/module/class/403786/sew-fab-embroidery-club-adventure then call the store to register.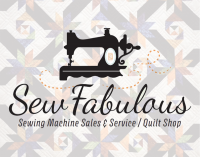 600 Romence Road, Ste 130 (in the Hillside Center)
Portage, MI 49024
(269) 459-1725
sewfabulous.mi@gmail.com
www.mysewfab.com
VIRTUAL TOUR: https://goo.gl/maps/SgXsRD12dAa1NU4s5

From I-94W take Exit 76, stay left to go south on Westnedge Ave.
Turn right on Romence Rd.
Turn right into the Hillside Center drive, just past the mall entrance on Romence Road.