Skip Navigation
Website Accessibility
Greetings from your friends at Sew Fabulous
Hello From Sew Fabulous,
WHAT'S HAPPENING
I hope everyone is doing well. There's lots going on here so be sure to read to the end. We are excited here at Sew Fabulous because our first in-house retreat is happening this weekend. We have a great bunch of people signed up and are planning for a fun weekend. We still have room for a couple more people. If you're interested, please call Heidi @ 269-459-1725.
I just have to share with you what happened to me this morning. If you've been in the store, chances are you met our Shop Dog, Sadie. She misses coming into the store but they put salt in the parking lot that hurts her feet so she has to spend some time with Daddy at home. Anyway, this morning I was enjoying my cup of coffee when Sadie jumped up on my lap and informed me that she wanted me to play ball with her. Unfortunately, I couldn't get my coffee cup out of the way fast enough and she plopped that nasty thing right into my coffee cup. Then she had the nerve to look at me with those eyes that say "Aren't you going to throw that?" Needless to say, I didn't finish that coffee.
NEW/INTERESTING ITEMS
We're getting more MODA Grunge in - so far we have:
And, coming soon:
SPECIAL PROGRAMS
WOW - A blinged-out Bernina 590

- a beautiful machine in limited availability.
FABRIC SALE: All Christmas and Halloween Fabric by the yard is 20% off the entire month of February.
UPCOMING EVENTS
Wednesday - Feb 2, 9:30-Noon: Portage Quilters
Thursday - Feb 3, Noon-5:00: Sit 'N Sew. Open to everyone. Cost is $3 which can be applied to purchases that day.
Fri-Sun - Feb 4-6, 9:00am-7:00pm: Sew Fab In-House Retreat

COMING UP:
Sewing Class for Adults is meeting on February 11. Call the store for more details. I'm sure they're going to be making something fun!

EMBROIDERY CLUB: Feb 25 1:00-4:00. This month they are working on a beautiful project - it will have you thinking SPRING!

NOW AVAILABLE FOR SIGN UP:
The Precision Piecing: Learn to Quilt class is now available for sign-up. We are offering this class in 2 different time slots: Saturday 10-Noon and Wednesday 6-8pm. For the dates and more details on this class, please go to:
Saturday Class
Wednesday Class

***IMPORTANT*** If you expressed an interest in this class, please stop in or call to pay for your registration because we can't hold spots without payment (I'm sorry for any inconvenience). 269-459-1725. There are 3 colorways to choose from - pick your favorite; we have limited quantity of each so be sure to stop in or call us soon.

ONE MORE THING AND I'LL BE DONE FOR THIS WEEK:
I am participating in the Local Quilt Shop Contest 2022 sponsored by ByAnnie's. I'm getting a late start so I hope you'll all help me out by going to this link and voting for Sew Fabulous - Portage, MI. The context runs until Feb 28,2022. It is open internationally to any quilt shops that join. This is very prestigious and I'm honored that one of my customers brought it to my attention, and I feel blessed to have such wonderful friends and customers that will vote for our store.

Have a wonderful week!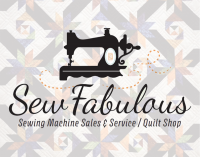 600 Romence Road, Ste 130 (in the Hillside Center)
Portage, MI 49024
(269) 459-1725
sewfabulous.mi@gmail.com
www.mysewfab.com
VIRTUAL TOUR: https://goo.gl/maps/SgXsRD12dAa1NU4s5

From I-94W take Exit 76, stay left to go south on Westnedge Ave.
Turn right on Romence Rd.
Turn right into the Hillside Center drive, just past the mall entrance on Romence Road.