Skip Navigation
Website Accessibility
Greetings from your friends at Sew Fabulous
Hello From Sew Fabulous,
WHAT'S HAPPENING
We had such a fun time during our first Sew Fab In-House Retreat!
We're planning another one in April - I'll announce the dates for that one next week.

Just a reminder, we are open even when public schools are closed. Store hours:
Tues-Fri - 9:30-6:00
Sat: 9:30-4:00

SPECIAL PROGRAMS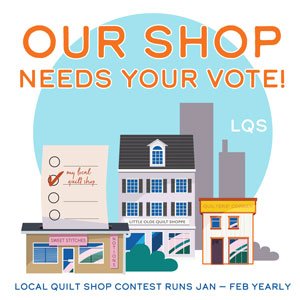 I know I posted this last week and you weren't able to find Sew Fabulous in the list.
I'm happy to report that that issue has been fixed and we're there now. If you love Sew Fabulous, please go out and place your vote. Use this link to place your vote: https://LQSContext.com/Vote.

We appreciate you spreading the word, too.


UPCOMING EVENTS
TUES, Feb 8, 9:30-Noon: Caring Hearts. Just a reminder that Caring Hearts creates items for local charities and are always looking for donations. If you're cleaning out your sewing space and have fabrics (any type or size) or batting, you can bring them in to the store.
WED, Feb 9, 1:00-4:00: KLCQ Snapdragons.
THUR, Feb 10, Noon-5:00: Sit 'N Sew. Sew much fun! It's a mini-retreat every Thursday afternoon! Just $3 to join us and you can apply that to a purchase that day.
FRI, Feb 11, 10:00-Noon: Adult Sewing Adventure. This week we're making Pull-on Pants. See https://mysewfab.com/ for more information on what you need to bring. Please call the store to sign up.
SAT, Feb 12, 10:00-4:00: KLCQ Scrappy Sisters.
LOOKING AHEAD

:
Wool Applique Club: Feb 16, 1:00-4:00

. This group always has a wonderful time. If you've ever wanted to learn more about wool appliqué, this is the group you need to meet.
Embroidery Club: Feb 25, 1:00-4:00

. Embroidery club is kicking off 2022 with a cute little wall hanging. We have a sample in the store. Call today to save your spot.
PRECISION PIECING

: In this class we will share tips and tricks for quilt piecing with the goal of perfecting our 1/4" seam and perfect points. This class is intended for all levels of quilters. It is filling up quick so call the store to save your spot and identify which color version you would like. 269-459-1725.
Thanks. Stay Safe.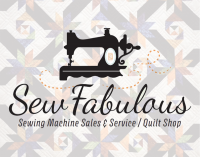 600 Romence Road, Ste 130 (in the Hillside Center)
Portage, MI 49024
(269) 459-1725
sewfabulous.mi@gmail.com
www.mysewfab.com
VIRTUAL TOUR: https://goo.gl/maps/SgXsRD12dAa1NU4s5

From I-94W take Exit 76, stay left to go south on Westnedge Ave.
Turn right on Romence Rd.
Turn right into the Hillside Center drive, just past the mall entrance on Romence Road.