Skip Navigation
Website Accessibility
Greetings from your friends at Sew Fabulous
Hello From Sew Fabulous,
WHAT'S HAPPENING
I hope everyone is having a FABULOUS Valentine's Day! I wish I could send every one of you heart-shaped sugar cookies like my mom used to do for us kids when we were in college. Do you have fond Valentine's memories?
We gave our FedEx guy a workout on Friday - he delivered 21 boxes. Wow! Lots of machines, notions, threads, and fabrics. I've been promising Batiks and some of them are finally here! I'll post pictures later in the letter.
Just a quick plug...please go to https://lqscontest.com/vote and place your vote for Sew Fabulous as your favorite Local Quilt Shop. We truly strive to deserve this recognition and appreciate your participation in this contest.

SUPPORTING LOCAL
I believe small and local businesses need to work together, so I'd like to share an email I recently received. If anyone is interested, please contact the number stated.
We are looking for part-time seamstresses and fitters at David's Bridal in Portage, Michigan location. An amazing atmosphere to work in. If you would be interested or know anyone that is looking for extra money in a job in what they love. Please reach out to me. Or anyone can apply at davidsbridal.com Also have $500 sign on bonus, $400 referral, flexible hours, and competitive wages. Make dreams come true by making their item perfect for them to look beautful at their event. Thank you if you can pass the word. That would so "sew" appreciate. Andrea-Store Manager 269.329.5890
************************
ALSO...If you've always wanted to learn Free Motion Quilting on your sewing machine, Quilt N Go in Eas Leroy has some openings for an upcoming class:

February 19, 10:30-2:30 - In this basic class you will learn how to set up your machine for quilting and how to prepare your quilt top, The focus of this class will be free motion quilting. By the end of the class students should be able to free motion 2 or more stipple designs, outline a shape and stipple around it, and use a continuous line design. Space is limited so call soon if you're interested. 269-979-2347.
ITEMS IN STOCK AND ON THE WAY
Every machine purchased at Sew Fabulous comes with our promise to teach you how to use the machine (Guide Classes) and a complimentary Clean/Oil/Adjust (COA) within the first year. We're here for you even after the purchase and love to share our love of sewing.
570QE: I have two in the box and ready to go home today. Stop in and check out our floor model to see all the great features in this machine. Included with this machine is the BERNINA STITCH REGULATOR (BSR). This is the best tool for quilters who want to free-motion quilt their own projects. Embroidery unit is an optional purchase with this machine.
770QE: I have 3 of these machines on order and am expecting them any time. If you've ever wanted to get this very popular machine, stop in and try out our demo model to see all its benefits. This machine also comes with the BSR and the embroidery module is an optional purchase. A deposit will hold one of these machines in your name.
Bernette 79 (Sewing and Embroidery): This is a wonderful entry-level sewing and embroidery machine. It has many of the features of BERNINAs with a reasonable price tag. If you ever thought you might want to get into embroidery without investing in a high-end, high-priced machine - this is for you. We have one in stock and ready for you to take home.
Bernette 70 (Embroidery Only): Or, maybe you already have a sewing machine you love and just want an embroidery machine to make fun projects. This is a very reasonably priced, great option. I have 2 on order and expect delivery sometime this week.
Memory Craft 8200: Fun, Fun, Fun! We have this machine in stock based on customer demand - they love it and you will too. With a stitch width of 9mm, you can create your own quilt labels without sending them out. Beautiful!
Memory Craft 6700: This is one of Janome's most popular machines. What makes it so popular, you might ask. It is fast - 1200 stitches per minute, lots of great stitch designs and a nice wide, metal bed.
Memory Craft 9540: This machine is tremendous with a large extension table included. It has 11" x 4.5" throat space for working on those large quilt or bag projects. You'll love the High Light spotlight that really illuminates your work! Come try our our demo model today. We have one in the box.

And don't forget, we have the little red Travel Mates. So cute and stitch so beautifully. I have several on order and should be here in a few days. Call and we'll put your name on one.

Creative Icon: This is Pfaff's top-of-the-line item...today! They are introducing a new Creative Icon II in March which promises to be even more amazing than this one (if you can believe that). I need to make room for the Creative Icon II so I'm offering an amazing deal on this machine. If you'd like to take advantage of this offer, don't hesitate; stop in the store and check it out.
Ambition 630, 620 or 610: These machines have many great features at a reasonable price. With the exception of the Select 4.2, all the Pfaff machines we have available in the store have the Pfaff IDT system for dual feed. This is a great feature and all the Pfaff owners I've spoken with love this feature. I own 2 Pfaff and have always loved it!
Expression Line (710 and 720): This is a machine for serious sewists. With many features and functions, you'll love it. Click the link to see the comparison of the 2 models.
FABRICS

Look at these wide-backs. The tall ones in the foreground are 118" wide. The shorter ones and the ones on either side of the window are 108" wide.
These are the new Batiks. I wish I had more - they're on order I promise.
Another new line from Quilting Treasures.
So many new fabrics!
SPECIAL PROGRAMS
PRECISION PIECING
This 10-part class will be led by Carol Melvin with an assist by Heidi Degenkolb. We'll be teaching the importance of a 1/4" seam and how to achieve it. You'll get lots of practice in making one of the most popular block techniques - Half-Square-Triangles. You'll also make a paper foundation block, some basic applique and mitered corners. We will be offering this class on Saturday mornings (check the class schedule on the website) with an encore on Wednesday evenings. Stop in the store to see our 3 color options and sign up. Cost is $15/session plus $10 for the fabric kit each session. NOTE: To save your spot, you must pay for the first session in advance. Then, when you come in for the class you'll pay for the next session as well as the fabric kit. At the first session, we ask that you buy the kit for Session I and Session II so you can come prepared for the second session. Please call the store if you have any questions. 269-459-1725
EMBROIDERY CLUB
We're thinking Spring with this project! Go to Sew Fab Embroidery Club Adventure (mysewfab.com) for more details. Cost will be $10 plus the cost of the kit and download. Be sure to call to save your spot today.
UPCOMING EVENTS
TUESDAY, Feb 15
Cathy's Caps
WEDNESDAY, Feb 16, 9:30-Noon -
Portage Quilters
THURSDAY, Feb 17, 12:00-5:00 -
Sit 'N Sew: Open to everyone. Cost is $3 which can be applied to a purchase this day.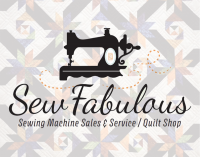 600 Romence Road, Ste 130 (in the Hillside Center)
Portage, MI 49024
(269) 459-1725
sewfabulous.mi@gmail.com
www.mysewfab.com
VIRTUAL TOUR: https://goo.gl/maps/SgXsRD12dAa1NU4s5

From I-94W take Exit 76, stay left to go south on Westnedge Ave.
Turn right on Romence Rd.
Turn right into the Hillside Center drive, just past the mall entrance on Romence Road.