Skip Navigation
Website Accessibility
Greetings from your friends at Sew Fabulous
Hello From Sew Fabulous,
WHAT'S HAPPENING
I don't know about you but I'm ready for Spring! These days when the sun is shining and it looks so lovely out are just teasing me. Next thing you know - whamo, 3" of snow. Well, those days are numbered and we'll be looking at warmer days soon. Are you getting away to warmer climates sometime soon? Ross and I are heading to Phoenix in the middle of March for the annual PFAFF Convention. I want to let you know that we'll be modifying our store hours while we're away. Alta, Jan, Linda and Sandy will still be here to help and support you.
March 17-24
Tues-Sat: 10:00-4:00
Closed Sun & Mon.
DON'T FORGET: Today is the last day to get your vote in our your Favorite Local Quilt Shop. If you haven't already voted,
1. Go online to
https://www.lqscontest.com/vote/
2. Click "Add"
3. Search "Sew Fabulous in Portage, MI"
4. List what you love about Sew Fabulous
5. Enter your name and email
6. Submit
That's it! The contest ends 2/28/2022. Thank you for your continuous support of our quilt shop! Results will be posted on the ByAnnie website.
NEW/INTERESTING ITEMS
Holly loves the

JANOME Travel Mate 30

and so do many others. We just got a shipment of these fantastic machines and only have 3 left. Call or stop in to check out this fun little machine. It really is as fun as it looks!
BERNINA 570 QEs

: We have 2 of these machines in the storeroom ready to go to a loving home.
I need to make room for the amazing new Creative Icon 2 that PFAFF will be introducing in a couple weeks. So, this machine, the

Creative Icon

, is marked down even more than our regular spectacularly low prices. If you're interested, please stop in and talk with Heidi.
SPECIAL PROGRAMS
BERNINA - ACCESSORY OF THE MONTH

In March, all BERNINA and BERNETTE Models are 20% off MSRP. Be sure to check at the store so you can get our best price.

UPCOMING EVENTS
Wed, March 2, 9:30-Noon

: Portage Quilters

Wed, March 2, 6:00-8:00 pm: Precision Piecing Class - Session I

Thur, March 3, Noon-5:00: Sit 'N Sew. Open to all. Cost $3 which can be applied to purchases that day.

Sat, March 5, 10:00-Noon: Precision Piecing Class - Session II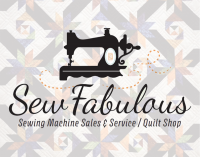 600 Romence Road, Ste 130 (in the Hillside Center)
Portage, MI 49024
(269) 459-1725
sewfabulous.mi@gmail.com
www.mysewfab.com
VIRTUAL TOUR: https://goo.gl/maps/SgXsRD12dAa1NU4s5

From I-94W take Exit 76, stay left to go south on Westnedge Ave.
Turn right on Romence Rd.
Turn right into the Hillside Center drive, just past the mall entrance on Romence Road.