Skip Navigation
Website Accessibility
Greetings from your friends at Sew Fabulous
Hello From Sew Fabulous,
Please don't forget our altered store hours this week:
Tues - Thurs: 10:00-4:00
Fri: 9:30-6:00 (we're back to regular hours starting Friday)
Sat: 9:30-4:00
WHAT'S HAPPENING
Ross and I are having a fabulous time in Arizona for the PFAFF National Convention. We arrived a day early so we could visit the Grand Canyon, a first for both of us. What a spectacular place!

Speaking of the PFAFF conference, they have launched the new Creative Icon 2, which is an amazing machine for crafters, garment sewists and quilters alike. My favorite features are 1) the stitch guidelines projector, 2) the grid feature projector 3) the embroidery editing and placement features and 4) the embellishment attachment tool that allows you to sew on beads, ribbon, yarn and cording. There's so much more about this machine that I can't begin to tell you about all it's wonderful features here. One of the machines being used here at the conference will be on it's way to our store on Wednesday. Stop in and see this incredible beauty.
NEW/INTERESTING ITEMS
WINTER WHITE - LIMITED EDITION
NORTHERN LIGHTS - LIMITED EDITION
DUSK FABRIC - LIMITED EDITION
PURPLE AURORA


SPECIAL PROGRAMS
Sew Fabulous In-House Retreat - Spring
We still have a few seats available for Friday and Saturday and several seats available for Sunday. Stop in or call the store if you're interested in attending. See our website for more information.
https://mysewfab.com/
UPCOMING EVENTS
NOTE: I don't have my calendar with me here in Phoenix so I'll do my best. Please forgive me if I missed a group:
TUESDAY, Mar 22 - 10:00-Noon: Caring Hearts
WEDNESDAY, Mar 23 - 1:00-4:00: Snapdragons
THURSDAY, Mar 24 - Noon - 4:00: Sit 'N Sew
FRIDAY, Mar 25 - Noon-4:00 Embroidery Club
SATURDAY, Mar 25 - 10:00 - Noon: Precision Piecing Session 3. Don't forget to bring the pieces for Session 3 and your booklets. We've made some updates to the instructions starting in Session 4 so it's important that you bring your booklets so we can make sure you have what you need.
LOOKING AHEAD:
WEDNESDAY, Mar 30 - 6:00-8:00: Precision Piecing Session 3 (ENCORE). Same thing as for Saturday.
We're planning a 'Quilt Label" event. Since Dawn and I went to Chicago to learn the BERNINA Designer V9 software for digitizing, we thought it would be fun to have an event where we can share what we learned. Actually, Dawn has been busy developing and digitizing labels so we can demonstrate how easy it is to create and stitch out your own labels. When we have the details worked out, I'll put it in the newsletter so you can make plans to join us.

Have a wonderful week.

Heidi, Ross & the Team.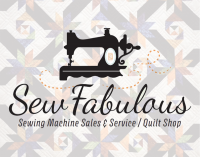 600 Romence Road, Ste 130 (in the Hillside Center)
Portage, MI 49024
(269) 459-1725
sewfabulous.mi@gmail.com
www.mysewfab.com
VIRTUAL TOUR: https://goo.gl/maps/SgXsRD12dAa1NU4s5

From I-94W take Exit 76, stay left to go south on Westnedge Ave.
Turn right on Romence Rd.
Turn right into the Hillside Center drive, just past the mall entrance on Romence Road.