Skip Navigation
Website Accessibility
Greetings from your friends at Sew Fabulous
Hello From Sew Fabulous,
WHAT'S HAPPENING
I hope everyone had a wonderful Easter. The sun was out and it was a beautiful day. I still say...warmer days are on their way; I'm unwaveringly confident of this! How about you?

We're in the last few weeks of National Overlocker Month. All overlocker machines in the store are on sale. How do you like this sweet little table runner? It was made entirely on an overlocker. You can make one, too. Interested, come into the store in April and let us demonstrate the BERNINA L890 and get the instructions free along with a free Fat Quarter.
We're getting ready for BERNINA's May Trade-in event. Are you thinking about the machine you'd like to get with this program? In May, you will get 25% off the MSRP on any BERNINA with your trade-in (your trade-in does not have to be a BERNINA). If you have a computerized BERNINA 830, there is a very special deal that includes free gifts along with the special price on the BERNINA 880 Plus. To top it off, there is 0% financing for 60 months on purchases of $5K and up (requires consistent monthly payments). There are other financing programs available for purchases $200 and up. If you have any questions, please don't hesitate to call 269-459-1725 and ask for Heidi.
SPECIAL PROGRAMS




BAG CLASS ENCORE

- We are offering a repeat of the "Easy Does It" bag class. It will be May 7 from Noon to 4:00 p.m. If you're interested, please contact the store to reserve your seat. Pre-work is required so the sooner the better. Go to https://mysewfab.com for more info.

The Old Bag Ladies and Gents club will meet regularly on the 1st Saturday of each month beginning June 4. Registration is open for each month through December 2022. Call or stop in the store to sign up.


IN-STORE RETREAT - JUNE


The in-house retreats have been very popular. So, to provide opportunity for more to attend and enjoy, we're offering 2 retreats in June: Session I: 16-17-18 and Session II: 27-28-29. Each day costs $25 and includes snacks and lunch. There will also be perks for attending like special sale events. Some have already signed up but we still have space available. Sign up soon by coming into the store or calling soon so you don't miss out.


UPCOMING EVENTS
Tuesday, April 19, 1:00-4:00: Cathy's Caps

Wednesday, April 20, 9:30-Noon: Portage Quilters
Wednesday, April 20, Noon-4:00: Wool Applique Club
Wednesday, April 20, 6:00-8:00: Precision Piecing Session 4

Thursday, April 21, Noon-5:00: Sit 'N Sew

Friday, April 23, 1:00-4:00: Embroidery Club. The design this month is called "Modern Pedals Tiling Scene" from Embroidery Online. You can get your download by going to https://embroideryonline.com/?aff=321975

I had the best success searching for "Modern Tiles Pedals"
I would love to see you at the store and hear what you are working on.

Have a wonderful week.
Heidi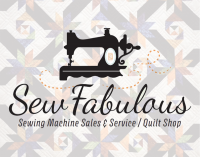 600 Romence Road, Ste 130 (in the Hillside Center)
Portage, MI 49024
(269) 459-1725
sewfabulous.mi@gmail.com
www.mysewfab.com
VIRTUAL TOUR: https://goo.gl/maps/SgXsRD12dAa1NU4s5

From I-94W take Exit 76, stay left to go south on Westnedge Ave.
Turn right on Romence Rd.
Turn right into the Hillside Center drive, just past the mall entrance on Romence Road.