Skip Navigation
Website Accessibility
Greetings from your friends at Sew Fabulous
Hello From Sew Fabulous,
WHAT'S HAPPENING
Can you believe how nice it was Saturday! It restored my confidence that Summer is actually going to happen! We struggled a little in the store on Saturday because our internet was down which made operations a little difficult but we made it through. Thanks to all who were so patient with us.
I would like to put a call out to anyone who has ever wanted a top-of-the-line embroidery/sewing machine. I have a great deal on the

PFAFF Creative Icon

. I have put my absolute best price on this machine and am including several free gifts (valued over $1000) with this purchase. Also, financing is available at 0% for 60 months. That's 5 years same as cash with regular monthly payments of around $185/month for 5 years. You won't regret this investment!
INTERESTING ITEMS
Have you ever wondered, "What would I do with a serger?" You all know how wonderful they are for constructing clothing, but have you ever considered:
Napkins (see this article from WeAllSew.)
Doll clothes (see this article from Oh Sew Kat!)

Curtains

Towels

Quilts - yes, quilts can be made with a serger. Think about it, sergers are great at making a straight line - most of the piecing we do in quilting is straight lines.

Embellishing quilt tops, pillow covers, etc.
Interested in learning more, stop in for a demo of our BERNINA L890 - it does it all! This month is quickly coming to a close so there is just a little more time left to take advantage of the special - BERNINA L series comes with a free roller tote, a Laurastar Lift and the Big Book of Serging. Financing is available.


The Bernette 64 is a great air-threading serger on sale this month for only $999.
That's a great deal!

SPECIAL PROGRAMS
OLD BAG LADIES AND GENTS CLUB

: Go to https://mysewfab.com > classes for more information. We are having an encore of the Easy Does it Bag. We had so much fun making this bag on Saturday. We still have 4 seats available in the class on May 7. Please call or stop in the store to sign up. There is some pre-work you need to finish before the class so sign up as soon as possible.


This is a picture of Ann's finished bag from Saturday, April 23. Didn't she do a great job!
Summer In-House Retreat

:
We're having 2 sessions of the Sew Fab In-House Retreat in June.
SESSION I - (Click here for more details)


June 16 (4 spaces left)


June 17 (6 spaces left)


June 18 (6 spaces left)


SESSION II - (Click here for more details)


June 27 (5 spaces left)


June 28 (6 spaces left)


June 29 (4 spaces left)

Please be aware that we can only reserve space for paid reservations. Call or stop in to save your spot. As a participant, you will get first dibs on signing up for the next In-House Retreat in August.


UPCOMING EVENTS
Tuesday, April 26, 4:00-7:00

- Bias Squares (closed group KLCQ)

Wednesday, April 27, 1:00-4:00

- Snap Dragons (closed group KLCQ)

Thursday, April 28, Noon-5:00

- Sit 'N Sew. Open to all. Cost: $3 which can be applied to a purchase that day.

Saturday, April 30, 10:00-Noon

: Precision Piecing - This class has been combined and will meet on Wednesday, May 4 @ 6:00-8:00 pm. If you signed up for this class and can't make it Wednesday evening, please call the store @ 269-459-1725 to make other arrangements.
What are your interests?
Do you own a serger and know how to thread and use it? Would you like to join us some day to make a project (pillow, napkin, decorative quilt blocks) with your serger? Please let us know and we'll set something up if we have enough interest. This class would be open to all but free to anyone who purchased a serger from Sew Fabulous. Materials and supplies would be extra.
PFAFF Performance and Creative Icon users: We'd like to have a class especially for you! These machines have a lot of unique stitches we can use in various projects. This class would be open to all but free to those who bought the machines from Sew Fabulous. Materials and supplies would be extra. Dependent upon interest - let me know if you'd like a class like this.


DON'T FORGET: May is the BERNINA TRADE-IN EVENT. Do you have a machine you'd like to trade in and get 25% off a new BERNINA?

I hope you all have a wonderful week.
Heidi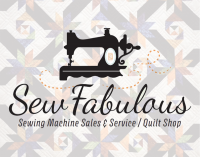 600 Romence Road, Ste 130 (in the Hillside Center)
Portage, MI 49024
(269) 459-1725
sewfabulous.mi@gmail.com
www.mysewfab.com
VIRTUAL TOUR: https://goo.gl/maps/SgXsRD12dAa1NU4s5

From I-94W take Exit 76, stay left to go south on Westnedge Ave.
Turn right on Romence Rd.
Turn right into the Hillside Center drive, just past the mall entrance on Romence Road.