Skip Navigation
Website Accessibility
Greetings from your friends at Sew Fabulous
Hello From Sew Fabulous,
WHAT'S HAPPENING
Happy Monday! What a beautiful day it is!
I am sorry to report that my Facebook account has been hacked...again! Please know that I do not send out Friend Requests EVER. If you receive a friend request from Heidi Degenkolb, please DO NOT respond to it - just delete it immediately.
Our first "Old Bag Ladies & Gents Club" projects were so much fun. The next one is scheduled for June 11 and we'll be making By Annie's Project Bags 2. Space will be limited so sign up soon. Check out the details @ https://mysewfab.com.
We have a few signed up for the Label Making event on May 28. Please check out the details @ Embroidery Label-Making Workshop (mysewfab.com) then stop in the store to sign up. Those who have purchased embroidery machines from Sew Fabulous can participate for free (1 free label) - we still need to know when you plan to come. No need to bring your machines.

ARE YOU UP FOR A QUILT CHALLENGE?


We invite anyone willing to enter a challenge to make a quilt with the fabric shown above.
How does it work, you might ask...well, let me tell you:
* Purchase at least 1 yard of this fabric. We will keep track of who purchased this fabric - only those who purchased it can enter the contest.
* It must appear in your quilt top in such a way as it is clearly visible as this fabric (in other words, you cannot cut it up so small that you cannot see the design and background of the fabric.)
* Your entry must be at least 42" square. There is no limit as to how large you want to make it.
* Your entry must be quilted and bound and have a label with your name.
* Bring your entry into the store no later than August 31, 2022.
* You agree to allow us to hang your quilt for the month of September during which time we will take votes from our customers & visitors as to their favorite quilt.
* There will be First, Second and Third prizes according to the votes received here at the store. Send everyone you know in to place their vote.

Let's see what you've got!


NEW/INTERESTING ITEMS
PATRIOTIC
FLANNELS: Wouldn't these look adorable on the back of a baby quilt?
WIDEBACKS: These are just a few. The 4 on the right are 118" wide.
SPECIAL PROGRAMS
BERNINA TRADE-IN EVENT -- There is also a 0% financing for 60 months offer available during May.
BERNINA STITCH REGULATOR
PFAFF CREATIVE ICON - Super Great Price! Comes with free gifts!
JANOME SUNNY DAYS SALES EVENT
UPCOMING EVENTS
Tuesday, May 10 - 9:30-Noon: Caring Hearts
Wednesday, May 11 - 1:00-4:00: Snap Dragons
Thursday, May 12 - Noon-5:00: Sit 'N Sew. All are welcome. Cost $3
Friday, May 13 - Adult Sewing - please call the store to find out the project for this month
Saturday, May 14 - Scrappy Sisters
LOOKING AHEAD
May 18 - Noon-4:00: Wool Applique Club: Noon-4:00
May 20 - 1:00-4:00: EMBROIDERY CLUB: May 20 (please note, this is a week earlier than our usual 4th Friday due to Memorial Day Events)
May 21 - 10:00-Noon: Precision Piecing - Session 6
May 25 - 6:00-8:00pm: Precision Piecing - Session 6 (encore)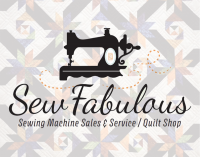 600 Romence Road, Ste 130 (in the Hillside Center)
Portage, MI 49024
(269) 459-1725
sewfabulous.mi@gmail.com
www.mysewfab.com
VIRTUAL TOUR: https://goo.gl/maps/SgXsRD12dAa1NU4s5

From I-94W take Exit 76, stay left to go south on Westnedge Ave.
Turn right on Romence Rd.
Turn right into the Hillside Center drive, just past the mall entrance on Romence Road.