Skip Navigation
Website Accessibility
Greetings from your friends at Sew Fabulous
Hello From Sew Fabulous,
WHAT'S HAPPENING
What a difference a few days make! In just a few days all the leaves and buds have popped and allergies are running rampant. I hope you're coping well with the season.
We've been working on a few kits that we'd like to offer you:

Walk in the Garden

:
This will be sold as a complete kit which will include
*All fabric to make the quilt top
*Binding
*Instructions / Patterns
We will schedule monthly sessions to work on at least 2 of the blocks each month. This will be free to all who purchase the kit.
There are limited number of kits; so if you would like to reserve yours, please call the store at 269-459-1725. We can also answer any questions you have about this adorable project.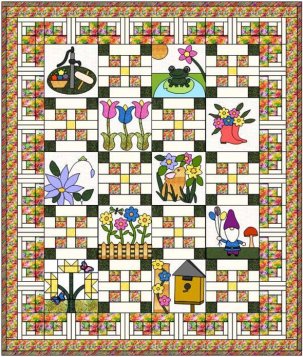 Tula Pink Butterfly Quilt

: We have 4 of these kits available.
These kits include *All the fabric for the Butterfly Wings and body.
You will need to purchase additional yardage for the background, border, binding and backing.
We will be offering a monthly drop-in sewing time to work on this project - free to anyone who purchases the kit here. During this time you can ask questions and get guidance on this oh-sew impressive project.

INTERESTING ITEMS
It's been a while since I found a fun-to-do item to share with you. How do you like this one from We All Sew? Get the instructions @ https://weallsew.com/. Isn't it adorable? I'd love to see how yours turns out - post it on Instagram and share with us if you make one. Thanks.
SPECIAL PROGRAMS
We're half way through the BERNINA Trade-In Event. What machine would you like to bring home?
Lots of great deals on Janome Machines during their Sunny Days Sale - this sale goes on through the end of July. Come in an try the CP3000P - a fantastic coverstitch machine.
May 28: Label Making Day - go to https://mysewfab.com to get all the details. How much would you pay for a machine-embroidered label for your special quilt? This event only costs you $9 and you will receive a label with your information. No need to bring a machine, fabric or thread - we're providing it all. You will see how to digitize a design, send the design to the embroidery machine and watch it stitch out. Reserve your spot today - call 269-459-1725.

Jun 16-18: In-House Retreat - Session I: We still have some space open for this retreat but they are filling fast. Call or stop in today to reserve your spot. For details see https://mysewfab.com
Jun 27-29: In-House Retreat - Session II: Call or stop in to save your spot here. It's so much fun! See https://mysewfab.com for details.


UPCOMING EVENTS
Tuesday, May 17, 1:00-4:00 - Cathy's Caps
Wednesday, May 18, 9:30-Noon - Portage Quilters
Wednesday, May 18, Noon-4:00 - Wool Applique Club
Thursday, May 19, 9:30-Noon - The Applique Group (KLCQ)
Thursday, May 19, Noon-5:00 - Sit 'N Sew, all are welcome. Cost is $3 which can be applied to a purchase that day.
Friday, May 20, 1:00-4:00 - Embroidery Club (NOTE DATE CHANGE - We are meeting this week instead of next due to Memorial day activities)
Saturday, May 21, 10:00-Noon - Precision Piecing Session 6
LOOKING AHEAD:
May 24: Bias Squares (KLCQ)
May 25: Snap Dragons
May 25: Precision Piecing Session 6 (encore)
May 26: Sit 'N Sew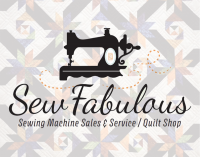 600 Romence Road, Ste 130 (in the Hillside Center)
Portage, MI 49024
(269) 459-1725
sewfabulous.mi@gmail.com
www.mysewfab.com
VIRTUAL TOUR: https://goo.gl/maps/SgXsRD12dAa1NU4s5

From I-94W take Exit 76, stay left to go south on Westnedge Ave.
Turn right on Romence Rd.
Turn right into the Hillside Center drive, just past the mall entrance on Romence Road.