Skip Navigation
Website Accessibility
Greetings from your friends at Sew Fabulous
Hello From Sew Fabulous,
WHAT'S HAPPENING
Oh boy! There's lots going on. Be sure to read to the end so you get all the news.

NEW/INTERESTING ITEMS
FABRICS:
Check out "Bonheur De Jour" - new From MODA. Isn't it gorgeous! My take on this is anytime spent sewing is a beautiful time of day.
That fabric on the far left is linen and it is a panel which consists of these 4 designs:
Fast and Quick, how about some 2 1/2" Strip quilts
SPECIAL PROGRAMS
Have you had your eye on a new BERNINA? Now's the time. This is the last full week of BERNINA's 25% off Trade-in event. Financing is 0% for 60 months (some restrictions apply).


We have this beautiful BERNINA 590 Crystal Edition in the store. Boy, does it hum! Come in and check it out.

These Crystal Edition machines were manufactured in limited quantity so when they're gone, they're gone. This is the last BERNINA 590 CE I'll be able to get. I may be able to get a BERNINA 790 Crystal Edition so be sure to check with Heidi or Ross when you're in the store.

PFAFF CREATIVE ICON: I love this machine.
UPCOMING EVENTS
Tuesday, May 24, 10:00-6:00 - Bias Squares

Wednesday, May 25, 1:00-5:00 - Snap Dragons

Wednesday, May 25, 6:00-8:00

- Precision Piecing Session 6 (Encore)

Thursday, May 26, Noon-5:00

- Sit 'N Sew. Open to all. $3 fee which can be applied to a purchase that day.
SATURDAY, May 28
Label Making: Noon-4:00
Open to all. No machines needed. We'll provide the materials. Come learn how an embroidery machine can make creating your labels easy and fun! Stop in and see what it's all about.
Launching 'Walk in the Garden': All Day
This kit will become available on Saturday. Details on accompanying free classes to come as well.
DESTINATION
RETREAT
We're planning the 2022 Destination Retreat. This year it is "Owner's Choice" and I choose Drummond Island, Michigan. You may have heard me talk about it before; this is a very special place for me. We have a cottage on Drummond Island and I love being there. I just love the peace and tranquility of island life and want to share this with you. If you are interested in joining us please call or email me so I can give you more details. 269-459-1725 or sewfabulous.mi@gmail.com
WHEN: September 19-23
WHERE:

(I have yet to make these reservations because I need to know how many are interested)


Lodging @ Drummond Island Hotel
Sewing @ Drummond Island Township Hall
COST: 2/room $745/person. 4/room $550/person.
HOW: You'll need to arrange and pay for your own transportation; car pooling, if you can. There are several great quilt shops along the way and we'll have a map available so you can pick your favorite spots.

Included in the price of the retreat will be:
* 4-nights at the Drummond Island hotel. Price varies depending on number of people to a room.
* Dinner Sept 19
* Break, Lunch and Dinner Sept 20-22
* Breakfast Sept 23
* Access to the Township hall (Sept 20-22) where we will set up our sewing stations. We can get in at 9:00 am each morning and stay until the last person leaves and locks the door behind them.

Those who attend this year's retreat will have first input on where the 2023 retreat will be.

I'm so excited about this and I hope you will be, too.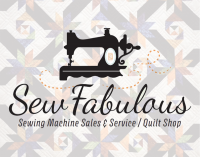 600 Romence Road, Ste 130 (in the Hillside Center)
Portage, MI 49024
(269) 459-1725
sewfabulous.mi@gmail.com
www.mysewfab.com
VIRTUAL TOUR: https://goo.gl/maps/SgXsRD12dAa1NU4s5

From I-94W take Exit 76, stay left to go south on Westnedge Ave.
Turn right on Romence Rd.
Turn right into the Hillside Center drive, just past the mall entrance on Romence Road.