Skip Navigation
Website Accessibility
Greetings from your friends at Sew Fabulous
Hello From Sew Fabulous,
WHAT'S HAPPENING
There's just one more day to take advantage of the BERNINA May Trade-In Event. Bring in any machine to trade and get 25% off a BERNINA. Along with this, you can take advantage of the 0% financing for 60 days program offered with the BERNINA credit card. I know you've had your eye on a BERNINA - stop in Tuesday.
RETREATS

In House Retreats are 'sew much fun'. For 3 days, arrive as early as 9:00am and go home at any time before 7:00 pm. Come and go as you please between 9:00 am and 7:00 pm. Lunch served each day. $25/day. Invite your friends and have a great time. Additional benefits such as discounts and gifts included.
Sew Fab In-House Retreat - June Session I - June 16-18
Sew Fab In-House Retreat - June Session II - June 27-29

Destination Retreat 2022 - Drummond Is, MI - Sept 19-23
We are starting an annual event - a destination retreat. This year, it's Owner's choice - Drummond Island, Michigan. This quiet little community located in Lake Huron is found at the Eastern tip of the Michigan's Upper Peninsula. Use this link to see all the details including pricing details. Sign up today with the payment plan. Attendees of the 2022 retreat will have first vote on where the 2023 retreat will be.
CLASSES
Walk in the Garden Quilt Kit and Sew Along: Kits Available NOW!
Free Sew along starts June 25. Get your kit soon. Use this link to see the dates for these Sew Along sessions.
Designer V9 Gab: Do you have the BERNINA Designer V9 digitizing software and need a boost to get started? Or, maybe you've been using it and need new inspiration and tips to get the most benefit from it. We are starting our Designer V9 Gab in June. Dawn will be leading this group every 4th Friday from 1:00-4:00. Class Fee: $15 (10% coupon on date of session with paid registration)
SPECIAL PROGRAMS
NEW POLICY:
Starting in June, all attendees of instructor-led, paid classes will receive a 10% coupon to use on purchases the day of the class. Exceptions include:
* All groups that use the classroom and pay a $3 classroom fee/attendee and get a $3 coupon does not apply
* Free Sew Along classes
* Only one 10% coupon per day

JUNE SPECIALS:


BERNINA


* Accessory of the Month: Foot #38 - Piping Foot
* June 17-30: Dollars off machine purchase
* June 17-21: 0% Financing for 48 or 60 months



JANOME


* Sunny Days Sale - Fantastic Pricing on select Janome Machines. See https://www.janome.com for details



PFAFF


Sew Fab Trade-In event:
* Trade in a VIKING sewing machine and get 25% off the MSRP on a new PFAFF.
* Trade-in any other brand sewing machine and get 20% off the MSRP on your favorite PFAFF.
* PFAFF Creative Icon: Special Pricing.

June 1-15: FAT QUARTER SALE All Fat Quarters will be

$2.50

each

THANKS ALL! Hope to see you soon.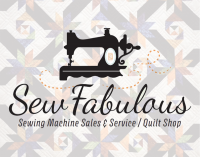 600 Romence Road, Ste 130 (in the Hillside Center)
Portage, MI 49024
(269) 459-1725
sewfabulous.mi@gmail.com
www.mysewfab.com
VIRTUAL TOUR: https://goo.gl/maps/SgXsRD12dAa1NU4s5

From I-94W take Exit 76, stay left to go south on Westnedge Ave.
Turn right on Romence Rd.
Turn right into the Hillside Center drive, just past the mall entrance on Romence Road.