Skip Navigation
Website Accessibility
Greetings from your friends at Sew Fabulous
Hello From Sew Fabulous,
WHAT'S HAPPENING
Greetings! I hope everyone is doing well. Fat Quarters continue to be $2.50 each through this week. We have a PFAFF Trade-in event going on right now. The BERNINA Summer sales event begins on Friday. We also have some great deals on JANOME and PFAFF machines.

NEW/INTERESTING ITEMS
I went to a vendor market last week and purchased a bunch of new fabric - of course most of it won't arrive until the fall or early next year but that's the way these things work. Funny story, I purchased the entire line of Riley Blake's Colour Wall which turned out to be in stock and showed up at the store 25 hours after I placed the order. That's amazing! Come take a look at these beautiful fabrics.
We also got Tula Pink's new line called Tiny Beasts. Aren't these fun!
We still have some of the Walk in the Garden Quilt Kits available. Stop in and get yours today. We'll be having free workshops for people who purchase this kit. The dates are: June 25, July 30, August 27 and September 24; each from 2:00-4:00. We will cover the applique assembly of three of the blocks each month and in September the last applique block and the finishing blocks. For more details, see https://mysewfab.com/module/class/453790/walk-in-the-garden---sew-along
I've got a couple more new designs and kits coming soon. Keep an eye on the newsletter to see what they are and when they'll be available.

SPECIAL PROGRAMS
We still have some openings for the June In-Store Retreats. The first one is this Thurs-Fri-Sat; if you'd like to join us, just call and let me know so we can be sure to have enough food for lunch. The second one is Jun 27, 28, & 29. Details found:
Jun 16-17-18: https://mysewfab.com/module/class/446790/sew-fab-in-house-retreat-session-i----june
Jun 16-17-18: https://mysewfab.com/module/class/446792/sew-fab-in-house-retreat-session-ii----june
UPCOMING EVENTS
TUESDAY JUNE 14

: 9:30-Noon: Caring Hearts
WEDNESDAY JUNE 15

: 1:00-4:00 Wool Applique Club
THURSDAY JUNE 16

:***IMPORTANT*** Sit 'N Sew is cancelled this week ONLY because the In-House Retreat is going on.


THURSDAY-FRIDAY-SATURDAY JUNE 16-18

: Sew Fab In-House Retreat - June Session I. 9:00 am - 7:00 pm every day. Lunch provided. $25/day.
LOOKING AHEAD TO NEXT WEEK:
TUESDAY, JUNE 21: Cathy's Caps
WEDNESDAY JUNE 22: Snapdragons
THURSDAY JUNE 23: The Applique Group (KLCQ)
FRIDAY JUNE 24: Embroidery Club (class is full)
FRIDAY JUNE 24: Digitizing Gab - cancelled due to illness of instructor (we're looking for a better time to have this session)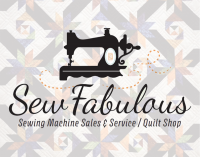 600 Romence Road, Ste 130 (in the Hillside Center)
Portage, MI 49024
(269) 459-1725
sewfabulous.mi@gmail.com
www.mysewfab.com
VIRTUAL TOUR: https://goo.gl/maps/SgXsRD12dAa1NU4s5

From I-94W take Exit 76, stay left to go south on Westnedge Ave.
Turn right on Romence Rd.
Turn right into the Hillside Center drive, just past the mall entrance on Romence Road.