Skip Navigation
Website Accessibility
Greetings from your friends at Sew Fabulous
Hello From Sew Fabulous,
WHAT'S HAPPENING
I can't believe how fast June is flying by; only a few more weeks and it'll be the 4th of July. Speaking of the 4th, please note that we will be altering our hours that week to let our staff celebrate the holiday. For these days only, we will be closed:
July 1 & 2: CLOSED.
July 4: Closed - but we're always closed on Mondays.
Now you don't have to wait for our newsletter to be delivered to know what specials are going on in the store. Just go to our website and click on the promotions tab then click the an option to see what the current promotion is for that brand or the store.
Just checking - how is everyone doing on their Challenge project? Will you have it done by August 31? Can't wait to see what you come up with.
Watch for our ad on the CW7.
NEW/INTERESTING ITEMS
Crazy about CIRCLES

.

Kim Diehl: Check out our little Spooling Around sample.

Pieced

by Lonny,

Quilted

by Shae and

Bound

by Heidi. A real group effort. Don't you just love these sweet little projects!
SPECIAL PROGRAMS
Summer is a great time to get a BERNINA. Buy and save through the rest of the month!
It's a great price on the very popular

bernette 77

. The

bernette 05 Academy

and bernette 37 are great machines, too. You can't go wrong with any of these wonderful machines.
UPCOMING EVENTS
Tuesday, June 21 - 1:00-4:00: Cathy's caps

Wednesday, June 22 - 1:00-5:00: Snap Dragons (KLCQ)

Thursday, June 23 - 9:30-Noon: The Applique Group

(KLCQ)



Thursday, June 23 - Noon-5:00: Sit 'N Sew (we sure missed you last week but we had a blast during our in-house retreat) Cost is $3 which can be applied to any purchase that day.

Friday, June 24 - 1:00-4:00: Embroidery Club. This class is full.
For Embroidery Club in

July

, we will be working on free-standing designs like our little Happy Campers.

Saturday, June 25 - 10:00-Noon: Precision Piecing. This session is all about Applique.

Saturday, June 25 - 2:00-4:00: Free session for those who purchased the Walk in the Garden Kit.

Monday, June 27 - Wednesday June 29: Sew Fab In-House Retreat - Session II. We still have a few spaces available if you'd like to join us. It's $25/day and includes lunch each day. You'll also get a few perks on purchases in the store as well.

Thursday, June 30 - Noon-5:00: Sit 'N Sew. Cost is $3 which can be applied to any purchase that day.

Friday and Saturday, July 1 & 2: STORE WILL BE CLOSED FOR THE HOLIDAY.
Have a wonderful week ahead.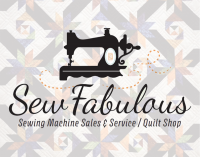 600 Romence Road, Ste 130 (in the Hillside Center)
Portage, MI 49024
(269) 459-1725
sewfabulous.mi@gmail.com
www.mysewfab.com
VIRTUAL TOUR: https://goo.gl/maps/SgXsRD12dAa1NU4s5

From I-94W take Exit 76, stay left to go south on Westnedge Ave.
Turn right on Romence Rd.
Turn right into the Hillside Center drive, just past the mall entrance on Romence Road.