Skip Navigation
Website Accessibility
Greetings from your friends at Sew Fabulous
Hello From Sew Fabulous,
WHAT'S HAPPENING
First of all, I have to apologize for not sending out my newsletter last week. With Monday being the 4th of July, I just got busy with my family and missed my own deadline. Thanks for understanding.
PLEASE NOTE: This week we have altered hours due to reduced staff. Please don't let that stop you from coming in though; Ross and the rest will be glad to see you.


Tues-Sat: 10:00am - 4:00pm



There are a couple reasons for our challenges this week:
1) Some of you may have heard that one of our workers is facing some health issues and will be out for a few weeks. We truly appreciate your continued prayer for her recovery. If you'd like to help in any way, her family has set up a 'Meal Train'. If you'd like more information, please contact us at the store.
2) Shae and I are in Palm Springs, California, for BERNINA University. We're so excited to be here, leaning about all the great things BERNINA has to teach us.
NEW/INTERESTING ITEMS
We are getting new fabrics in all the time. Please stop in to see the latest additions. Here are a few.
Don't you just love the flames, muscle cars and tread fabric!

Oh so lovely!

We also have some 1-yard and 3-yard flat folds at bargain prices. These are all pre-cut and wrapped (sorry, no cutting into these - you get 1 or 3 yards as they're packaged). These are end of bolt so once they're gone, there won't be any more of that particular fabric.

SPECIAL PROGRAMS
INTRODUCING SOFTWARE INSPIRATIONS CLUB using BERNINA Designer V9. This club will meet once a month on the second Friday of each month, 3:00-5:00pm. It will be led by Dawn Smith. Our goal with this club is to instill confidence in using the software as well as sharing special tips and tricks provided by BERNINA experts.



I'm really interested in making a Temperature Quilt. This quilt is created using several different shades of fabric to represent the temperatures on each day of the year. For more details, see https://weallsew.com/?s=temperature+quilt. This quilt can be accomplished using a number of techniques; but, I think the one presented by We All Sew is rather easy and appealing. It is a very simple paper pieced design.


Keep your eye out for more details on when we'll be having classes to begin this project.
UPCOMING EVENTS
Tuesday, July 12, 9:30-Noon

- Caring Hearts


Wednesday, July 13, 1:00-5:00

- Snapdragons


Thursday, July 14, Noon-5:00

- Sit 'N Sew (Cost: $3 with a coupon that can be applied that day)

LOOKING FORWARD:
Tuesday, July 19, 1:00-4:00 - Cathy's Caps
Wednesday, July 20, 1:00-4:00 - Wool Applique Club
Wednesday, July 20, 6:00-8:00 - Precision Piecing (be sure all your blocks are done as we're putting the rows together)
Thursday, July 21, Noon-5:00 - Sit 'N Sew
Friday, July 22, 10:00-Noon - Walk in the Garden (this is free for anyone who purchased the kit)
Friday, July 22, 1:00-4:00 - Embroidery Club (see https://mysewfab.com for more details
Saturday, July 23, 10:00-Noon - Precision Piecing (be sure all your blocks are done as we're putting the rows together)
Saturday, July 23, Noon-3:00 - Old Bag Ladies & Gents Club - pre-work required. I'll be sending an email with details on what you need to have completed to be ready for this class. See https://mysewfab.com for more details.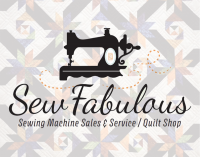 600 Romence Road, Ste 130 (in the Hillside Center)
Portage, MI 49024
(269) 459-1725
sewfabulous.mi@gmail.com
www.mysewfab.com
VIRTUAL TOUR: https://goo.gl/maps/SgXsRD12dAa1NU4s5

From I-94W take Exit 76, stay left to go south on Westnedge Ave.
Turn right on Romence Rd.
Turn right into the Hillside Center drive, just past the mall entrance on Romence Road.