Skip Navigation
Website Accessibility
Greetings from your friends at Sew Fabulous
Hello From Sew Fabulous,
WHAT'S HAPPENING
Greetings to all you wonderful sewists and creators! I hope you're having a wonderful start to another week.

We are busy here getting ready for the Challenge Quilt submissions due at the end of this month. How are you coming with your project? Don't forget, your project must be at least 42" square, it must be quilted and labeled, and we must be able to recognize this fabric.



IN THE MARKET?
Are you planning to go to the AQS Quilt Show in Grand Rapids next week? If so, please remember that I will match any show specials you may get on BERNINA, JANOME, PFAFF or bernette machines and accessories. Take a picture of the special offer and bring it into the store and I'll give you the same deal (exception: I am not able to promise any deals that would include trade-ins.) I'll honor those prices until the end of August. If you have any questions, please call the store @ 269-459-1725.

PFAFF EDUCATOR IN HOUSE
I have invited a professional PFAFF Educator to come to our store to tell us all the wonderful features in the the PFAFF ICON machines. This is a sales event, not a learning event so if you've been thinking and dreaming about one of these amazing machines, you won't want to miss it. $5 will reserve your seat - sign up in the store or at https://mysewfab.com/module/class/463060/pfaff-educator---icons.


NEW/INTERESTING ITEMS
I know I had this in last week's newsletter. I've had many people asking about this beautiful machine so I put more details on our website @ https://mysewfab.com/longarm-quilting.htm. I've quoted the wrong price a few times and just checked my book to confirm that the MSRP is $9499 - my SewFab price is $7999. Stop in this week and check it out!

We had so much fun at our last Old Bag Ladies & Gents Club that I wanted to share this photo. Didn't everyone do a great job!

Wouldn't you like to join us for the next class? Stop in the store or go to https://mysewfab.com to sign up for the September 3, 10:00-3:00 class. Patterns and supplies are available at Sew Fabulous.
SPECIAL PROGRAMS
If you have the BERNINA Designer Plus or Creator program for digitizing your embroidery designs, you don't want to miss the the SOFTWARE INSPIRATIONS CLUB coming up this Friday from 3:00-5:00. This is a time when you can get into that software and play with to to become more familiar. Or maybe you've been using it for a while and would like to get new inspirations. Some of the tips and tricks shared will come directly from the BERNINA experts. WHAT TO BRING: Your computer with the Designer Plus or Creator program installed and a mouse. COST: $10. Stop in the store or go to https://mysewfab.com/module/class/456898/software-inspirations to sign up.
UPCOMING EVENTS
CARING HEARTS: Tuesday, Aug 9, 9:30-noon. NOTE TO CARING HEARTS MEMBERS: This year in August & September you will be sewing fleece HATS & MITTENS so please pgring your machines, patterns, elastic, etc. In July, it was decided to make more of the smaller-size mittens this year.

SNAP DRAGONS (KLCQ): Wednesday, Aug 10, 1:00-5:00.

PRECISION PIECING CLASS - SESSION 10/MAKE UP: Wednesday, August 11, 6:00-8:00. This is our last session - borders. You made it!

Sit 'N Sew: Thursday, August 11, Noon-5:00. Open to everyone. Cost $3 which can be applied to a purchase that day.

SOFTWARE INSPIRATIONS: Friday, August 12, 3:00-5:00. Cost $10. Sign up in store or @ https://mysewfab.com/module/class/456898/software-inspirations


HAVE A WONDERFUL WEEK. Hope to see you soon!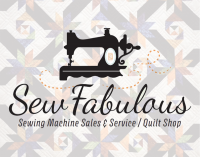 600 Romence Road, Ste 130 (in the Hillside Center)
Portage, MI 49024
(269) 459-1725
sewfabulous.mi@gmail.com
www.mysewfab.com
VIRTUAL TOUR: https://goo.gl/maps/SgXsRD12dAa1NU4s5

From I-94W take Exit 76, stay left to go south on Westnedge Ave.
Turn right on Romence Rd.
Turn right into the Hillside Center drive, just past the mall entrance on Romence Road.