Skip Navigation
Website Accessibility
Greetings from your friends at Sew Fabulous
Hello From Sew Fabulous,
WHAT'S HAPPENING
Did you visit the AQS Quilt Show in Grand Rapids Last week? I hope you enjoyed it. I am blessed with a wonderful staff that allowed me to get away Friday to take in some of the fabulous quilts on display. What was your favorite?

NEW/INTERESTING ITEMS
NOW IN THE STORE - INTRODUCING "SKYGAZING BY GUICY GUICE"
ANNOUNCEMENTS
IN HOUSE RETREAT



Bring your projects and sew to your hearts content. You will have access to cutting tables and irons and ironing boards. Bring your own tools and accessories.

Lunch will be provided each day.
Thur. Oct 20 - 9:00 am - 7:00 pm
Fri. Oct 21 - 9:00 am - 7:00 pm
Sat. Oct 22 - 9:00 am - 7:00 pm
COST: $25/Day

Space is limited - save your spot by coming into the store to sign up or use this link to go to the class listing https://mysewfab.com/FallRetreat.

UPCOMING EVENTS
Tuesday, August 23, 4:00-7:00 - Bias Squares - a KLCQ Group
Wednesday, August 24, 1:00-4:00 - Snap Dragons - a KLCQ Group
Thursday, August 25, Noon - 5:00 - Sit 'N Sew - All are welcome. Cost: $3 which can be applied to a purchase that day
Friday, August 26, 1:00-4:00: Embroidery Club with Deb. This week we're working on Knock Down Stitches. For more details, go to https://mysewfab.com/embroidery_club
LOOKING AHEAD
Drummond Island Retreat

is coming up. There's still time to sign up if you'd like to join us. Here are some of the things we're getting ready for you:
* We're going to have gifts for everyone attending
* Scavenger Hunt
* Shop Hop of stores along the trail - there will be 4 paths mapped out for you, or you may choose your own
* Parade of Projects on the last day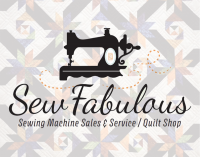 600 Romence Road, Ste 130 (in the Hillside Center)
Portage, MI 49024
(269) 459-1725
sewfabulous.mi@gmail.com
www.mysewfab.com
VIRTUAL TOUR: https://goo.gl/maps/SgXsRD12dAa1NU4s5

From I-94W take Exit 76, stay left to go south on Westnedge Ave.
Turn right on Romence Rd.
Turn right into the Hillside Center drive, just past the mall entrance on Romence Road.