It's time to submit your challenge quilts! Wow that time went by fast! It seems like just yesterday when we put this challenge out there. All submissions must be received by end of day August 31. In case you're scrambling to get yours done, here are the guidelines:
At least 42" square

The challenge fabric must be recognizable in your submission

It must be quilted and bound and have a label with your name on it
Tell all your friends to stop in and vote for for their favorite. Voting will take place throughout September - 1 vote per person per visit.

LAST CALL: Please call the store by end of day, August 31, if you are interested in joining us for the fun on Drummond Island. We have one room with 2 queen beds available. See the details at https://mysewfab.com.

SPECIAL EVENT: PFAFF Educator Class
Let's make a bag. We'll provide the machine, kit, lunch and fun!
WHEN: September 30, 2022 - 9:00 am - 4:00 pm
WHERE: Sew Fabulous, 600 Romence Rd, Ste 130, Portage, MI
HOW MUCH: $50 (this covers the PFAFF Educator instruction, use of PFAFF Creative Icon 2, kit, and lunch)
Sign up by September 9 and get a free Fat Quarter. All attendees receive a 10% discount on purchases that day (some exclusions apply)
Go to for more details and to sign up. https://mysewfab.com/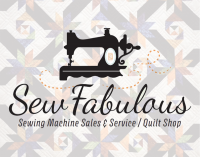 600 Romence Road, Ste 130 (in the Hillside Center)
Portage, MI 49024
(269) 459-1725
sewfabulous.mi@gmail.com
www.mysewfab.com
VIRTUAL TOUR: https://goo.gl/maps/SgXsRD12dAa1NU4s5

From I-94W take Exit 76, stay left to go south on Westnedge Ave.
Turn right on Romence Rd.
Turn right into the Hillside Center drive, just past the mall entrance on Romence Road.