WHAT'S HAPPENING
Happy Labor Day! I hope everyone had a peaceful and enjoyable weekend.
I'm happy to announce that we've launched our ONLINE SALES through the https://mysewfab.com/products.htm website. We still have a lot of work to do on that front but we're getting there. With online capabilities, you are able to sign up and pay for classes through https://mysewfab.com/sew-fabulous-machine-salesservice-and-quilt-shop-classes.htm.



Don't Forget to VOTE

. We have 8 wonderful submissions for our Challenge and now it's time for all of you to place your vote. Come into the store and place your vote before September 30, 2022. All submissions will receive a prize but the one with the most votes will win the Grand Prize. CAUTION: Please don't make your decision based on these photos - you really have to see them in person to make the best choice.

This is an additional 15% off our already low in-store price on select machines.
HIGHTLIGHTED ITEMS
GREAT DEAL

! Used BERNINA 880 Plus. This top-of-the-line, well-loved machine comes with many extras.Go to https://mysewfab.com/shop/Used/p/Used-BERNINA-880-with-accessories-x65202837.htm for more details then stop in the store to check it out. This is a great value and won't last long; check it out soon
ANOTHER BERNINA ORIGINAL! The original BERNINA computerized sewing + embroidery machine - BERNINA 180. Go to https://mysewfab.com/shop/Used/p/USED-MACHINE---BERNINA-Artista-180-with-EMB-x61878495.htm for more details then stop in the store to check it out.



Please go to https://mysewfab.com/shop/Used/p/Quilt-Rack---Repurposed-Wood-x65270130.htm for more details on this fun quilt rack. The quilt in the picture is not included; but it's interesting to know that it was made using the BERNINA 880 Plus shown in the listing above.

KITS:
Stop in an watch Shae work on the quilting of this beautiful quilt which measures 57" x 81". Super Fun!
This quilt was hanging in the BERNINA Sewing Center and Quilt Shop and was their contribution in the 2020 Shop Hop that never happened. Sew Fabulous purchased their stock and has re-introduced this as a kit.



Stop in and see our example hanging in the machine room. Shae did a great job piecing it. She also quilted it on our BERNINA Q16. Beautiful! The kit includes all the fabrics to make the butterfly; you get to choose the background, border and backing fabric.
SPECIAL PROGRAMS
SOFTWARE INSPIRATIONS - Every Month, Second Friday 3:00-5:00 - new topic every month. This month we'll be discussing the new features for Branching and Apply Closest Join.

EMBROIDERY CLUB - Every Month, 4th Friday (except November & December) - September we will be making fun Halloween Bags

WOOL APPLIQUE CLUB - Every Month, Third Wednesday 1:00-5:00

OLD BAG LADIES & GENTS CLUB - Every Month, First (and sometimes 2nd) Saturday 10:00-3:00. In October, we'll be making the Take A Stand Bag by ByAnnie.
COMING SOON: Learn to Quilt Club - Learn the basics of quilting. Each month we will cover a new topic - fabric selection, color theory, cutting, sewing, borders, binding, and the list goes on and on.


UPCOMING EVENTS
Wednesday, September 10, 9:30-Noon: Portage Quilters. This group is accepting new members. https://mysewfab.com/module/class/410860/portage-quilters
Thursday, September 11, Noon-5:00: Sit 'N Sew. Open to all. Cost $3 which can be applied to your purchase that day.
Friday, September 12, 3:00-5:00: Software Inspirations. This month's topic, "Branching & Apply Closes Join". Cost: $10.

Have a wonderful week.
Hope to see you soon.
Heidi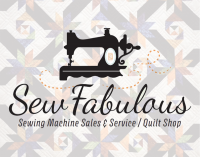 600 Romence Road, Ste 130 (in the Hillside Center)
Portage, MI 49024
(269) 459-1725
sewfabulous.mi@gmail.com
www.mysewfab.com
VIRTUAL TOUR: https://goo.gl/maps/SgXsRD12dAa1NU4s5

From I-94W take Exit 76, stay left to go south on Westnedge Ave.
Turn right on Romence Rd.
Turn right into the Hillside Center drive, just past the mall entrance on Romence Road.