Skip Navigation
Website Accessibility
Greetings from your friends at Sew Fabulous
Hello From Sew Fabulous,
WHAT'S HAPPENING
Voting continues on the Challenge quilts. There are 8 wonderful submissions to choose from - all unique and all lovely! Which one will you vote for?

Come see what came in this week! We are expecting a delivery of more in October. There will only be a limited amount of these machines available;

so, get your deposit in to save yours today
We also have 6 of the BERNINA Q16 machines and tables in stock. We'll hold one for you with a $500 deposit - what a great Christmas present!

NEW/INTERESTING ITEMS
BERNINA 770 QE E Kaffe Fasset Edition
The BERNINA 770 QE E Kaffe Fassett Edition comes with a specially designed roller bag and dust cover as well as a fabric bundle of 15 half-yard cuts of some of Kaffe's most popular designs. The embroidery module is an optional purchase.
Horn of America cabinets (https://www.hornofamerica.com/) We now sell sewing machine cabinets by Horn of America. Stop in and see the Ultimate Sewing/Crafting Storage Center - the perfect height for most to use as a cutting table. It's beautiful! We'll be getting the New Heights Adjustable Sewing Table soon so you can see that as well. Find what you like at https://www.hornofamerica.com/ and order through us.

SPECIAL PROGRAMS
BIG SAVINGS ON SEWING MACHINES - DEMO SALE

continues through this week. Drastic savings on many floor models. Don't forget that these machines come with the original warranty from the company as well as our commitment to teach you how to use it. We'll also provide the first COA (Clean Oil Adjust) free of charge within the first year. Stop in and find the machine that's perfect for you.


Mystery Quilt - Are you up for an adventure? This program is suitable for all levels of quilters. You'll get to practice new techniques and learn several new blocks during this year-long program. The adventure begins October 14, 5:00 pm - 7:00 pm. (Cost: $15/meeting). You will need to bring 3 fat quarters that evening to get started. You'll want to make a decision on what colors you'd like for your quilt; for example, all blues - bring a light, medium, and dark; or contrasting colors - black, white and red. This could be a great stash buster or you can be on the look-out for suitable fabrics as you visit quilt shops throughout the year. You can read more about the program @ https://mysewfab.com/module/class/461075/mystery-quilt

Embroidery Club

- This month we'll be working on these cute little Halloween Fabric Baskets. Come into the store to sign up or do it online @ https://mysewfab.com/module/class/403786/sew-fab-embroidery-club-adventure

UPCOMING EVENTS
TUESDAY, September 13 9:30-Noon

: Caring Hearts



TUESDAY, September 13, 4:00-7:00

: Bias Squares (KLCQ)



WEDNESDAY, September 14, 1:00-4:00

: Snap Dragons (KLCQ)



THURSDAY, September 15, Noon-5:00

: Sit and Sew. All are welcome. Cost $3 which can be applied to a purchase that day.



SATURDAY, September 17, 2:00-4:00

: Walk in the Garden workshop. This is free for anyone who has purchased the Walk in the Garden quilt kit. We still have a few in the store if you'd like to join the fun.



Thanks All! See you soon.
Heidi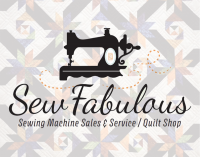 600 Romence Road, Ste 130 (in the Hillside Center)
Portage, MI 49024
(269) 459-1725
sewfabulous.mi@gmail.com
www.mysewfab.com
VIRTUAL TOUR: https://goo.gl/maps/SgXsRD12dAa1NU4s5

From I-94W take Exit 76, stay left to go south on Westnedge Ave.
Turn right on Romence Rd.
Turn right into the Hillside Center drive, just past the mall entrance on Romence Road.