I bet you noticed that I missed my Monday deadline for sending out this newsletter.
I apologize; allow me to explain. This week Jan and I are on Drummond Island for our first Destination Retreat. We left Sunday morning and had pleasant weather the whole way!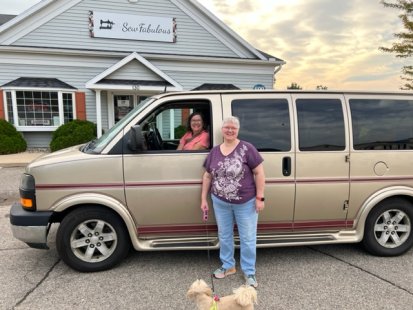 It took us 5.5 hours to get to the Mackinaw Bridge. Even clouds and construction cones can't diminish the sight of those magnificent towers.



Finally, we made it to MI134 and headed east to DeTour where we caught the ferry to Drummond Island.

The ferry ride is quick - about 5 minutes.
Here's a view from the island.
Now the explanation...Monday, I sat down to write my newsletter before our guests started arriving (9 wonderful people are here with us) only to find out we had no internet service. Thinking it was just the service at our cottage, we called the company. They informed us that a construction company had severed the fiber optic line that feeds all internet and LAN lines to Drummond Island. You might think ok, it'll get fixed in no time; but when you don't have internet, cell or LAN lines, you realize how quickly you are dependent upon these things. Even more so when you realize that the 911 service on the island is not operational either. Thankfully, no emergencies for us. The service was restored late Tuesday evening and now I'm here writing to you.
We are having a blast at the retreat. Look for an announcement for our next Drummond Island Retreat in May 2023.