Skip Navigation
Website Accessibility
Greetings from your friends at Sew Fabulous
Hello From Sew Fabulous,
WHAT'S HAPPENING
I bet you noticed that I missed my Monday deadline for sending out this newsletter.
I apologize; allow me to explain. This week Jan and I are on Drummond Island for our first Destination Retreat. We left Sunday morning and had pleasant weather the whole way!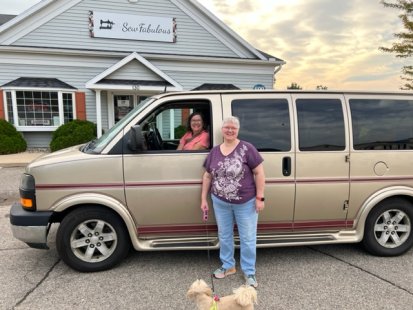 It took us 5.5 hours to get to the Mackinaw Bridge. Even clouds and construction cones can't diminish the sight of those magnificent towers.



Finally, we made it to MI134 and headed east to DeTour where we caught the ferry to Drummond Island.

The ferry ride is quick - about 5 minutes.
Here's a view from the island.
Now the explanation...Monday, I sat down to write my newsletter before our guests started arriving (9 wonderful people are here with us) only to find out we had no internet service. Thinking it was just the service at our cottage, we called the company. They informed us that a construction company had severed the fiber optic line that feeds all internet and LAN lines to Drummond Island. You might think ok, it'll get fixed in no time; but when you don't have internet, cell or LAN lines, you realize how quickly you are dependent upon these things. Even more so when you realize that the 911 service on the island is not operational either. Thankfully, no emergencies for us. The service was restored late Tuesday evening and now I'm here writing to you.
We are having a blast at the retreat. Look for an announcement for our next Drummond Island Retreat in May 2023.

NEW/INTERESTING ITEMS
We have the whole family of air threading overlockers from Bernette. When it comes to sergers, threading the loopers is always the hardest part. These AIR THREADING machines make it so easy! If you've ever thought of getting a serger, you should check these beauties out! Stop in and place your order today.

Bernette 62 is a COVERSTITCH ONLY $1479:
Bernette 64 is OVERLOCK ONLY $1479:
Bernette 68 is a COMBO WITH OVERLOCK AND COMBO $2199:
SPECIAL PROGRAMS
EMBROIDERY CLUB: Do you love creating with your embroidery machine? This club meets once a month and we'd love to hae you join us. For more details on this month's project, go to: https://mysewfab.com/module/class/403786/sew-fab-embroidery-club-adventure. September 23 @ 1:00-5:00

SOFTWARE CLUB: Do you have BERNINA DESIGNER V9? Maybe you have previous versions and want to know more about V9. In this club we'll be exploring new and advanced features in this software. On October 14th we'll learn about the Weld Feature. You can sign up for this class @ https://mysewfab.com/module/class/456898/software-inspirations. OCTOBER 14 @ 2:00 - 4:30.

MYSTERY QUILT: We're so excited to be offering a Mystery Quilt Program. This is a year-long program and it's going to be sew-much-fun! Go to https://mysewfab.com/module/class/461075/mystery-quilt for more details and to sign up. You can also sign up the next time you're in the store. OCTOBER 14 @ 5:00-7:00


This is an adventure quilt so you aren't provided with yardage requirements. Rather, you will build on a color pallet of your choice. At the first session you need to come with three fabrics that work well together. You may want to select three coordinating colors or three contrasting colors or same color in light-medium-dark. This is your adventure. You can pull from your stash one month and be 'on the hunt' for new fabrics throughout the year. Wherever you go, you can be looking for that perfect fabric that will fit in your 2023 Mystery Adventure quilt.



OLD BAG LADIES AND GENTS CLUB: This month we're making the Take A Stand Bag by ByAnnie. This will be a two-session class, October 8 & 15 Noon-3:00. We'd love to have you join us. Go to https://mysewfab.com/module/class/443839/old-bag-ladies--gents-club for more info and to sign up.




COMING SOON: QUILTER'S CLUB

.

This club isn't in the class roster, yet. I would like start a monthly 'gab and learn' session to talk about quilting tips and tricks. We may make simple projects to focus on certain techniques and sometimes we'll just practice with scraps. Learning is fun!




UPCOMING EVENTS
Thursday, September 22, 9:30-Noon: The Applique Group (KLCQ)

Thursday, September 22, Noon-5:00

: Sit 'N Sew - open to all. Cost if $3 which can be applied to your purchase that day.

Friday, September 23, 1:00-5:00

: Embroidery Club. Cost $10 - Price includes expert instruction and workspace in our classroom. 10% Discount on purchases the day of the class (exclusions: BERNINA, PFAFF and JANOME branded items.)
Next week: Tuesday 4:00-7:00 - Bias Squares & Wednesday 1:00-5:00 - Snapdragons. Saturday is our PFAFF Educator event.


Have a wonderful rest of your week!
Heidi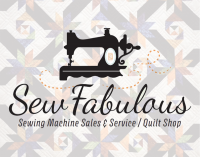 600 Romence Road, Ste 130 (in the Hillside Center)
Portage, MI 49024
(269) 459-1725
sewfabulous.mi@gmail.com
www.mysewfab.com
VIRTUAL TOUR: https://goo.gl/maps/SgXsRD12dAa1NU4s5

From I-94W take Exit 76, stay left to go south on Westnedge Ave.
Turn right on Romence Rd.
Turn right into the Hillside Center drive, just past the mall entrance on Romence Road.