Skip Navigation
Website Accessibility
Greetings from your friends at Sew Fabulous
Hello From Sew Fabulous,
SEW MACHINE REPAIRS HERE
https://mysewfab.com/bernina-janome-featherweight-singer-machine-repairs-sew-fabulous.htm

WHAT'S HAPPENING
Well, we all had so much fun at our first destination retreat on Drummond Island. The Scavenger Hunt was a smashing success. They had so much fun with that! What was the most difficult thing to find? I think it was finding someone that looks like them and taking a picture with that person. Also, they each received a quilt block to put together. By the end of the retreat it was completed and we all had a photo op with it.
NEW/INTERESTING ITEMS
We now have patterns by Lisa Ruble of Quilty Zest (formerly Love to Color My World). Stop in and check them out.
Zuzu's Squares

- you may have see this at Quilt Week in Grand Rapids.
Strippy Improv Halloween

- Quilt Along is going on right now @ QuiltyZest.com.
If you like the Strippy Improv Halloween, you should see the Strippy Improv Christmas. Stop in and see them, adorable!

How about some great new fabrics to get your creative juices flowing. I love these sewing themed fabrics.



Are you planning to make any gifts for Christmas this year? How about these lovelies!
The colors were starting to change up North - aren't these great!
I just love these cherry and farm-yard-chic fabrics.
SPECIAL PROGRAMS
BERNINA: Don't forget we still have some great promotions going on for Customer Appreciation Month. Check everything out @ https://mysewfab.com/bernina-sales-promotions-sales-gifts-benefits.htm. We're taking deposits on orders for the new BERNINA 770 QE E and 475 QE Kaffe Fassett Special Editions. Do you have a machine you'd like to trade in for one of these beautiful machines, stop in and talk with Heidi.

We would love to show you the BERNINA Q16 - beautiful sit-down stitch-regulated free-motion machine. It's a great time to get a deposit in to hold one of these machines for that special holiday gift as supplies are limited.

PFAFF: I'm looking forward to Cindy Peck's visit on September 30. She's going to teach a class on the PFAFF Creative Icon 2 where 4 people will be making a rope bag using numerous special features on this machine. This class is full.

Have you always wanted a top-of-the-line machine. We have a PFAFF Creative Icon (the original) available with a huge discount. Stop in and take it home - you won't regret it.

This machine comes with the PFAFF new machine warranty and support from Ross and Heidi at Sew Fabulous.





JANOME

: JANOME'S Back to Sewing Event is quickly coming to close on September 30. Go to https://www.janome.com/siteassets/promotions/us/2022/back-2-sewing-sale/back-to-sewing.pdf and see all the great deals you can still take advantage of.

UPCOMING EVENTS
TUESDAY, Sep. 27 - 4:00-7:00

: Bias Squares (KLCQ)
WEDNESDAY, Sep 28 - 1:00-4:00

: Snapdragons (KLCQ)
THURSDAY, Sep 29 - Noon-5:00

: Sit 'N Sew - Open to all. Cost is $3 which can be applied to purchases that day.
FRIDAY, Sep 30 - 9:00 - 4:00

: PFAFF Educator Event - Rope Bag with Cindy Peck
SATURDAY, Oct 1 - Noon - 3:00

: Old Bag Ladies & Gents Club. We are working on the "Take A Stand" bag by ByAnnie. This is a two-part class, the second session will be

October 15 Noon-3:00

. If you need to come early to work on your prep-work, feel free; the class room will be available at 9:30.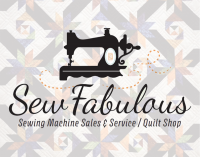 600 Romence Road, Ste 130 (in the Hillside Center)
Portage, MI 49024
(269) 459-1725
sewfabulous.mi@gmail.com
www.mysewfab.com
VIRTUAL TOUR: https://goo.gl/maps/SgXsRD12dAa1NU4s5

From I-94W take Exit 76, stay left to go south on Westnedge Ave.
Turn right on Romence Rd.
Turn right into the Hillside Center drive, just past the mall entrance on Romence Road.