Skip Navigation
Website Accessibility
Greetings from your friends at Sew Fabulous
Hello From Sew Fabulous,
WHAT'S HAPPENING
Greetings all you wonderful sewists! I hope you're having a great start to your October. We have a lot going on at Sew Fabulous including Shop Hops, Retreats, Classes, and special promotions from BERNINA, PFAFF and JANOME.

SPREAD THE NEWS....STARTING NOVEMBER 1, Sew Fabulous will be open on Mondays!

---
SHOP HOP: I'm so happy to announce that we're participating in the

Holly Hop

with 8 other wonderful quilt shops. Purchase your $5 passport at Sew Fabulous then visit each of the stores between November 2-5 for savings and enter for a chance to win a $50 prize. Each store will have a drawing for the prize so be sure to enter your name at all 9 shops. One entry per person for the drawing but you can take advantage of the savings over and over again.


PARTICIPATING STORES ARE:
Attic Window, Comstock Park
Dragonfly Quilting, Plainwell
The Hen House, Charlotte
Mo's Needle and Thread, Portland
Quilts at the Marshall House, Marshall
Quilt Chic (Savasana), Grand Rapids
Quilt N Go, East Leroy
Sew Fabulous, Portage
Smith-Owen, Grand Rapids
See you passport for store hours at each location.

---
Sew Fabulous In-House Fall Retreat
Thursday, October 20 is FULL
Friday, October 21 we have one seat available
Saturday, October 22 we have 4 seats available.
If you'd like to sign up for Friday and/or Saturday, please stop in the store or go to https://mysewfab.com/module/class/464534/sew-fab-in-house-retreat---fall and sign up using your credit card.


---
Mystery Quilt
We still have a few spots open for this fun and creative event! You will get a clue and expert instruction each month leading to a beautiful 'adventure' quilt. Why do we call it an adventure? Because every month you will get a new technique and can design it from the fabrics in your stash or from the purchases you make throughout the year. When you go on vacation and stop at quilt shops along the way, you'll say to yourself, "Won't this fat quarter look great in my Mystery Quilt at Sew Fabulous?" How much fun to look at the finished result and remember all the adventures you had finding the fabrics and making the quilt!
Stop in the store or go tohttps://mysewfab.com/module/class/461075/mystery-quilt to sign up.


NEW/INTERESTING ITEMS

The PFAFF Passport 3.0 has arrived. This is a great little machine with built in IDT (dual feed by PFAFF). Perfect for small places and going places. Stop in and see this adorable machine.


We finally have the Travel Mate 30 back in the store. This is a very popular machine and quantities are limited.

SPECIAL PROGRAMS
SUPER SATURDAY IS HERE!

Are you ready to invest in your first/next BERNINA?
Saturday, October 15, is SUPER SATURDAY where all purchases over $4000 qualify (with approval for credit) for 0% interest for 72 months of equal monthly payments. Do you have your eye on one of the Kaffe Fassett machines...purchase them on Saturday to spread out your payments for 6 years.
UPCOMING EVENTS
Tuesday, October 11, 9;30-Noon: Caring Hearts

Wednesday, October 12, 1:00-5:00: Snapdragons (KCLQ group)

NOTE: Wool Applique Club has been moved to October 26.

Thursday, October 13, Noon-5:00: Sit 'N Sew. Open to all. Cost $3 which can be applied to your purchase that day.

Friday, October 14, 2:00-4:30: Software Inspirations - BERNINA Designer V9. This month we're learning all about the Weld tool.



Friday, October 14, 5:00-7:00: The Adventure Begins - MYSTERY QUILT. Cost $15. Coming in every month will help you stay on task with this fun project. However, we've built in opportunities where you can come in and 'make up/catch up' anything you missed. If you attend three consecutive months, the fourth session is free.

Saturday, October 15, Noon-3:00: Old Bag Ladies & Gents Club - Session 2 of the Take A Stand bag.

Do you love Kaffe Fassett fabrics? We're expecting a delivery of all the bolts that are included in the free bundle that comes with the BERNINA 770 QE and the BERNINA 475 QE. Would you like to join me in making the HatBox Quilt by Kaffe Fassett? Read Julie Bridgeman's details at https://weallsew.com/kaffe-fassett-hat-box-quilt-series-templates-and-fabric-prep/ and https://weallsew.com/kaffe-fassett-hat-box-quilt-series-quilt-block-background-and-y-seams/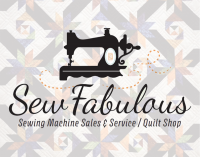 600 Romence Road, Ste 130 (in the Hillside Center)
Portage, MI 49024
(269) 459-1725
sewfabulous.mi@gmail.com
www.mysewfab.com
VIRTUAL TOUR: https://goo.gl/maps/SgXsRD12dAa1NU4s5

From I-94W take Exit 76, stay left to go south on Westnedge Ave.
Turn right on Romence Rd.
Turn right into the Hillside Center drive, just past the mall entrance on Romence Road.