Skip Navigation
Website Accessibility
Greetings from your friends at Sew Fabulous
Hello From Sew Fabulous,
WHAT'S HAPPENING
Greetings! Lots going on at Sew Fabulous this week.

**IMPORTANT** If you come for Sit 'N Sew on Thursday afternoons please note that we won't be having Sit 'N Sew this week due to our Fall In-House Retreat.

STARTING NOVEMBER 1, Sew Fabulous will be open on Mondays! It's coming up soon! Tell your friends!

---
SHOP HOP: Don't forget to purchase your $5 passport at Sew Fabulous for the Holly Hop coming up on November 2-5. Each of the 9 participating store will have special savings for passport holders as well as a chance to a $50 prize at each store. Each store will have a drawing for the prize so be sure to enter your name at all 9 shops. One entry per person for the drawing but you can take advantage of the savings over and over again.


PARTICIPATING STORES ARE:
Attic Window, Comstock Park
Dragonfly Quilting, Plainwell
The Hen House, Charlotte
Mo's Needle and Thread, Portland
Quilts at the Marshall House, Marshall
Quilt Chic (Savasana), Grand Rapids
Quilt N Go, East Leroy
Sew Fabulous, Portage
Smith-Owen, Grand Rapids
See you passport for store hours at each location.

---
Mystery Quilt
Did you miss the fun of our Mystery Quilt last Friday? You can still join us next month for the second clue. There will be a make-up/catch-up session on January 6, 2023, where you can pay the class fee to catch-up on the clues you missed or just sit and sew for free if you attended the three previous sessions.
Stop in the store or go to https://mysewfab.com/module/class/461075/mystery-quilt to sign up.


NEW/INTERESTING ITEMS
We finally got the Travel Mate 30 back in the store and they sold out quickly. More are on order and should be in later in November. It's not small enough for a stocking stuffer but it would still look great under a Christmas Tree! If you are interested, please stop in and let us know so we can put you on our list.


BERNINA 770 QE E Kaffe Fassett and BERNINA 457 QE Kaffe Fassett are in the store! With limited quantities on these beauties you'll want to get your name on one as soon as possible. Stop in and check them out. They come with roller bags for the machines, embroidery module bag, fat quarters of special edition Kaffe Fassett fabrics that are only available to BERNINA Dealers, and so much more!

UPCOMING EVENTS
Tuesday, October 18, 1:00-4:00: Cathy's Caps

Wednesday, October 19, 9:30-Noon: Portage Quilters

NOTE: Wool Applique Club has been moved to October 26.

Thursday-Saturday, October 20-22, 9:00am-7:00pm: Fall In-House Retreat.

NOTE: Sit 'N Sew IS CANCELLED THIS WEEK ONLY DUE TO FALL IN-HOUSE RETREAT.


LOOKING AHEAD

Friday, October 28, 1:00-4:00: Embroidery Club. https://mysewfab.com. Cost $10 (does not include the design files needed for the project)



Wednesday-Saturday, November 2-5: Holly Hop! Don't miss out on the fun; get your passport at Sew Fabulous. $5

Saturday, November 5, Noon-3:00: Old Bag Ladies & Gents Club - The Double Zip Bag. Sign up at https://mysewfab.com (Cost is $15)



Have a great week!
Heidi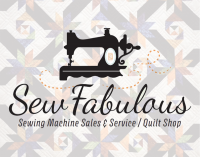 600 Romence Road, Ste 130 (in the Hillside Center)
Portage, MI 49024
(269) 459-1725
sewfabulous.mi@gmail.com
www.mysewfab.com
VIRTUAL TOUR: https://goo.gl/maps/SgXsRD12dAa1NU4s5

From I-94W take Exit 76, stay left to go south on Westnedge Ave.
Turn right on Romence Rd.
Turn right into the Hillside Center drive, just past the mall entrance on Romence Road.