Skip Navigation
Website Accessibility
Greetings from your friends at Sew Fabulous
Hello From Sew Fabulous,
WHAT'S HAPPENING
Can you believe we're nearing the end of October! Where has the time gone? I'm really getting excited about the Holly Hop coming up November 2-5. Have you purchased your passport, yet? It's only $5 for the passport and each of the stores will be having specials that will more than cover the cost of the passport if you choose to take advantage of them. Also, each store will be having a drawing for a $50 gift give-away - don't forget to fill out an entry form at each store you visit. I hope we see you then.

PARTICIPATING STORES ARE:
Attic Window, Comstock Park
Dragonfly Quilting, Plainwell
The Hen House, Charlotte
Mo's Needle and Thread, Portland
Quilts at the Marshall House, Marshall
Quilt Chic (Savasana), Grand Rapids
Quilt N Go, East Leroy
Sew Fabulous, Portage
Smith-Owen, Grand Rapids
See your passport for store hours at each location.


NEW/INTERESTING ITEMS
You've gotta see the beautiful Kaffe Fassett machines from BERNINA. They're gorgeous!
Do you want to quilt your own quilts but struggle with the bulky material and a small sewing machine? What you need is the BERNINA Q16 or Q20. We have a few Q16's with fold-down tables in stock and they're going to go fast in November because the price is going to be phenomenal for the Black Friday Event, November 18-30! Stop in and ask for a demo to see how wonderful this machine is!
And, did you notice that beautiful quilt hanging behind the Q16? This is going to be a Block of the Month program starting in January. We will be taking orders for this starting in November so it can be the gift that gives all year long...every month a new kit will be ready for you. Tell your loved ones that you want that. What fun!

USED MACHINES
We have some exceptional used machines in the store; starting with this beautiful BERNINA 880 Plus that comes extras and attachments worth at least $2000. This is a great bargain at $7000. Used machines come with our promise to teach you how to use the machine as well as a complimentary First-Year COA. How could you go wrong?



I also have a beautiful PFAFF ICON that comes with all the accessories it was 'born' with as well as a beautiful roller tote. I love PFAFF but I love even more that Ross has really grown into these machines and has become a truly amazing PFAFF technician - isn't it great to have someone who really knows what he's doing! This fabulous machine sells for $7000.
Do you love vintage BERNINA? How about an Artista 180 with embroidery! This machine was built in Switzerland and is still an amazing machine. Stop in and check it out. $799.
NEW FABRIC!
We have some beautiful reproduction fabrics from Marcus Fabrics. We're always getting new fabrics in - be sure to stop in frequently to see what's new.
UPCOMING EVENTS
TUESDAY, October 25, 4:00-7:00: Bias Squares (KLCQ)
WEDNESDAY, October 26, 1:00-4:00, in the classroom: Snap Dragons (KLCQ)
WEDNESDAY, October 26, 1:00-4:00, in the front; Wool Applique Club (hand applique). Open to all. Cost $3 which can be applied to purchase that day.
THURSDAY, October 27, Noon-5:00: Sit 'N Sew. Open to all. Cost $3 which can be applied to purchase that day.
FRIDAY, October 28, 1:00-4:00: Embroidery Club. Open to all with embroidery machines (we have more than a few nice embroidery machines for sale!) Cost of the class is $10 and does not include the design or the materials. I've sent an email to all who have signed up reminding them of what to bring. There is still room if you've like to join us!
Well, that about does it for now. Have a wonderful week. I hope to see you soon.
Heidi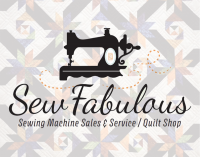 600 Romence Road, Ste 130 (in the Hillside Center)
Portage, MI 49024
(269) 459-1725
sewfabulous.mi@gmail.com
www.mysewfab.com
VIRTUAL TOUR: https://goo.gl/maps/SgXsRD12dAa1NU4s5

From I-94W take Exit 76, stay left to go south on Westnedge Ave.
Turn right on Romence Rd.
Turn right into the Hillside Center drive, just past the mall entrance on Romence Road.