Skip Navigation
Website Accessibility
Greetings from your friends at Sew Fabulous
Hello From Sew Fabulous,
WHAT'S HAPPENING
Are you ready for the HOLLY HOP? If you haven't purchased your passport, we still have some here at Sew Fabulous.
The Holly Hop is this week, November 2-5. I hope we see you then.

PARTICIPATING STORES ARE:
Attic Window, Comstock Park
Dragonfly Quilting, Plainwell
The Hen House, Charlotte
Mo's Needle and Thread, Portland
Quilts at the Marshall House, Marshall
Quilt Chic (Savasana), Grand Rapids
Quilt N Go, East Leroy
Sew Fabulous, Portage
Smith-Owen, Grand Rapids
See your passport for store hours at each location.
SPECIAL PROGRAMS
Keep watching my newsletter for the BLACK FRIDAY SALES EVENTS coming soon! (HINT: Black Friday isn't just the day after Thanksgiving - most brands have extended the sales so they start earlier in November so you don't have to make that mad rush to the stores after eating all that turkey!)
We sell Horn of America Cabinets and Accessories. Stop in and see our catalog of visit https://www.hornofamerica.com/ for more information.
UPCOMING EVENTS
SIT 'N SEW

: Thursday @ Noon-5:00: Open to all. Cost is $3 which is returned when you purchase at least $3 work of product that day.



OLD BAG LADIES & GENTS CLUB

: Saturday @ 10:00am -3:00. We still have room for a few more. If you're interested, please see the details at https://mysewfab.com/. There is some pre-work required to be sure to read all.



BASIC SEWING WITH LINDA

: Second Friday each month @ 10:00am - Noon. If you're interested in learning to sew, consider signing up for this class. Be sure to read all the details @ https://mysewfab.com/. Space is very limited so pre-registration is required. Stop in or call if you have any questions.



MYSTERY QUILT (aka: The Adventure Quilt)

: Second Friday each month @ 5:00 pm. It's not too late to join this class. It meets every month through next October. We've built in 4 'Make-up/Catch-up' classes so if you miss one you can catch up on those days. Please feel free to call the store if you have any questions. You can go to https://mysewfab.com/ for more details and to sign up.



Have a great week. See you soon!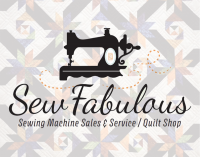 600 Romence Road, Ste 130 (in the Hillside Center)
Portage, MI 49024
(269) 459-1725
sewfabulous.mi@gmail.com
www.mysewfab.com
VIRTUAL TOUR: https://goo.gl/maps/SgXsRD12dAa1NU4s5

From I-94W take Exit 76, stay left to go south on Westnedge Ave.
Turn right on Romence Rd.
Turn right into the Hillside Center drive, just past the mall entrance on Romence Road.