Skip Navigation
Website Accessibility
Greetings from your friends at Sew Fabulous
Hello From Sew Fabulous,
WHAT'S HAPPENING
Wow, today got away from me and I'm getting this newsletter out pretty late. I hope you're all doing well, staying safe and being healthy.

REMINDER: We will be closing early on

Saturday, December 17

. Hours are:

9:30-2:00

.
Do you know someone who is interested in learning how to sew? We have people stop in the store all the time asking for beginning sewing classes. To answer this need, we will have a Beginning Sewing Class with Heidi starting January 28. It is a 3-session class and will be held January 28, 10:00-Noon, February 4, 10:00-Noon, and February 11, 10:00-2:00. Included with the class is the book, "Professor Pincushion's Guide to Beginning Sewing". Cost: $85 for the class. Sign up @ https://mysewfab.com/module/class/478300/beginning-sewing-with-heidi

It's been a while since I sent you a project from our friends at Janome. I thought you might like this cute little "Three Fat Quarter Quilted Journal". It is a quilt-as-you-go project and could be a quick project to make for a gift. I love giving handmade gifts, don't you?
https://www.janome.com/en-ca/inspire/projects/accessories/three-fat-quarter-quilted-journal/
And, as long as I'm at it, I found instructions for this cute, reversible holiday apron at We All Sew. If you like to bake during the Holidays, perhaps you could make this apron and show your festive spirit while you make all those goodies your family loves.
https://weallsew.com/sew-a-reversible-patchwork-christmas-apron/
I have a CHALLENGE for you - I know some of you just love the idea of a good challenge. In March I'm expecting a shipment of the fabrics being used in the 2022/2023 Hoffman Challenge - 100 years of Hoffman. You've got a few months to develop your design; I'm sure every one of them will be beautiful. See all the details including categories and rules at https://hoffmancaliforniafabrics.net/challenge/
SPECIAL PROGRAMS
BERNINA continues to have 25% off all accessories, luggage and hoops. There are also some great deals on Bernette 70 and 79 machines that include free software (Software value more than $1000). Also, it's not too late to get the BERNINA Q16 under your Christmas Tree (figuratively speaking, really! It's too big to fit under the tree.) Stop in and talk with Heidi to get the best deal on this great machine and table.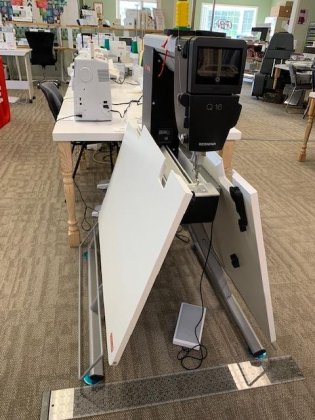 JANOME Holiday Bonus Guide - go to https://www.janome.com/siteassets/dealer-extranet-jai/advertising/2022-holiday-promotions/holiday-gift-guide---11.2022.pdf to see all the great deals.

All machines that aren't on sale t

There are still a few openings for this gorgeous Rainbow Sampler Block of the Month. Sign up by going to https://mysewfab.com/module/subscription.htm?id=4205
You'll need to follow these steps:
1) Select a delivery method.
2) Enter your name, email address and phone number.
3) Click Add to Cart
4) Click Proceed to Checkout (you'll see that the amount due is $0 - this is correct. Your credit card will be billed $30 on the 2nd of each month, January through October)
5) Complete the checkout process by entering your credit card details and finishing.
UPCOMING EVENTS
TUESDAY, December 13, 9:30-Noon: Caring Hearts Holiday Celebration

WEDNESDAY, December 14, 1:00-4:00: Snapdragons

THURSDAY, December 15, Noon-5:00: Sit 'N Sew

LOOKING AHEAD to JANUARY 2023
Mystery Quilt: We have 2 sessions in January.


JANUARY 6

is the Make Up/Catch Up session. If you've attended the three prior sessions, this is free. If you missed any, there will be a $15 for the each class you missed so you can catch up.


JANUARY 14

is session 4.



Old Bag Ladies and Gents Club

: We'll be making the "I'll Drink to That" bag. For details and to sign up, go to https://mysewfab.com/module/class/443839/old-bag-ladies--gents-club. In February we'll make the "Catch All Caddy"





Embroidery Club

: January 27th we'll be making some free-standing lace. These are some of the most beautiful things you can make with your embroidery machine. https://mysewfab.com/module/class/403786/sew-fab-embroidery-club-adventure

Have a great week
Heidi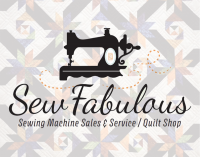 600 Romence Road, Ste 130 (in the Hillside Center)
Portage, MI 49024
(269) 459-1725
sewfabulous.mi@gmail.com
www.mysewfab.com
VIRTUAL TOUR: https://goo.gl/maps/SgXsRD12dAa1NU4s5

From I-94W take Exit 76, stay left to go south on Westnedge Ave.
Turn right on Romence Rd.
Turn right into the Hillside Center drive, just past the mall entrance on Romence Road.