Skip Navigation
Website Accessibility
Greetings from your friends at Sew Fabulous
Hello From Sew Fabulous,

WHAT'S HAPPENING
I hope you're all doing well. We're gradually recovering from our unfortunate happening last week. Basically, the drain for our building was completely clogged and caused water to back up into the store - we're so thankful that there was no unpleasant odor. We were truly blessed in that almost everything was up off the floor and we had no loss of product. The biggest problem is drying out the walls and under the shelving unit. Our landlord was great and called in all the best people to do the clean up and remediation. We'll be open again on Monday. However, the

Monday Morning Sit 'N Sew is cancelled because we are setting things on the tables as we sort and put things away

.
Speaking of Sit 'N Sew, I've had a few people ask me what this is all about. When you come for a Sit 'N Sew you bring your own tools and projects to work on. This is a time to get out of the house and sew (knit, crochet, cross-stitch or whatever) with others. Some wonderful friendshps have developed from the Thursday Sit 'N Sew group. When you arrive, you pay $3 and we'll give you a coupon for $3 toward purchases that day.


SPECIAL DEALS FOR THE WEEK BEFORE CHRISTMAS

All in-stock machines have special pricing through Friday. The deals on the machines listed below are so good that I can't post the details here - you'll have to stop in the store and see them in person. As always, when you purchase a machine at Sew Fabulous you will receive instruction on how to operate the machine, manufacturer's warranty as well as free labor for the first year from our trained and certified technicians.

BERNINA Q16 in Folding Table (includes a gift box of accessories)



BERNINA 475 QE Kaffe Fassett Edition (includes roller bag)


BERNINA 770 QE Plus Kaffe Fassett Edition with Embroidery Module (includes roller bag and embroidery bag, 1/2yard Kaffe Fassett bundle, and more)


BERNINA 590 Crystal Edition (includes roller bag, embroidery bag, Swarovski crystals and more) - ONLY ONE AVAILABLE



PFAFF Creative Icon - ONLY ONE AVAILABLE

Don't forget gift certificates are available, too!
FOCUS ON...
Rainbow Sampler Block of the Month - We still have a few spots available for this beautiful quilt. See all the details and sign up @ https://mysewfab.com/module/subscription.htm?id=4205

Janome Travel Mate 30 is in stock. If you ordered one, we'll be calling you as soon as we check them in.



PREVIOUSLY LOVED MACHINE
We rarely sell used machines but there are a few that are so wonderful we need to give you an opportunity to own it. We have recently reduced the priced on this fabulous BERNINA 880 Plus machine. It was owned by a BERNINA educator and was extremely well cared for. It comes with all the standard accessories and oodles and oodles of extras. You have to see it to believe it. Asking $5500.

UPCOMING EVENTS
MONDAY, December 19: Sit 'N Sew is CANCELLED this day due to clean up effort



TUESDAY, December 20, 1:00-4:00: Cathy's Caps

WEDNESDAY, December 21, 9:30-Noon: Portage Quilters

THURSDAY, December 22, Noon-5:00: Sit 'N Sew

FRIDAY, December 23: STORE IS CLOSING AT 3:00 PM

LOOKING AHEAD: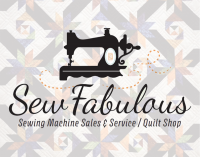 600 Romence Road, Ste 130 (in the Hillside Center)
Portage, MI 49024
(269) 459-1725
sewfabulous.mi@gmail.com
www.mysewfab.com
VIRTUAL TOUR: https://goo.gl/maps/SgXsRD12dAa1NU4s5

From I-94W take Exit 76, stay left to go south on Westnedge Ave.
Turn right on Romence Rd.
Turn right into the Hillside Center drive, just past the mall entrance on Romence Road.