Skip Navigation
Website Accessibility
Greetings from your friends at Sew Fabulous
Hello From Sew Fabulous,
WHAT'S HAPPENING
Happy Monday! I hope you had a wonderful weekend. We enjoyed being with our family. Sadie decided to take to the high ground of the back of our chair while Ross's dog, Holli, was around.
The weather kind of threw us for a loop last week and we closed early on Thursday and stayed closed while the storm passed. We're here now ready for a Fabulous week.


SPECIAL DEALS FOR THE WEEK

AFTER

CHRISTMAS

All in-stock machines have special pricing through the end of December. The deals on the machines listed below are so good that I can't post the details here - you'll have to stop in the store and see them in person. As always, when you purchase a machine at Sew Fabulous you will receive instruction on how to operate the machine, manufacturer's warranty as well as free labor for the first year from our trained and certified technicians.

BERNINA Q16 in Folding Table (includes a gift box of accessories)



BERNINA 475 QE Kaffe Fassett Edition (includes roller bag)


BERNINA 770 QE Plus Kaffe Fassett Edition with Embroidery Module (includes roller bag and embroidery bag, 1/2-yard Kaffe Fassett bundle, and more)


BERNINA 590 Crystal Edition (includes roller bag, embroidery bag, Swarovski crystals and more) - ONLY ONE AVAILABLE



PFAFF Creative Icon - ONLY ONE AVAILABLE

SPECIAL PROGRAMS
Monday Sit 'N Sew: We've opened the classroom for the $3 Sit 'N Sew every Monday from 9:30-2:30. This is 5 hours of uninterrupted creative time. Get a few of your friends together and start your week out with us. No reservations required and with your paid attendance, you get $3 off your purchases that day.

Old Bag Ladies & Gents Club: At our next meeting on January 7 @ 10:30-3:00, we will be making the "I'll Drink to That" bag from ByAnnie - we have everything you need for this fun carrying case here at Sew Fabulous. There is some prep work required so be sure to read the details @ https://mysewfab.com/module/class/443839/old-bag-ladies--gents-club and complete the steps described under "BEFORE CLASS". You can also sign up and pay for the class at this website. Next month, we'll be working on the Catch All Caddy 2.0.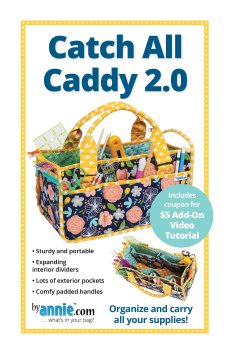 Mystery/Adventure Quilt: We still have a few openings for this year-long class (Oct '22-Oct '23). If you come to the Catch Up/Make Up session on January 6 @ 5:00 pm, you can pay for the sessions you've missed and get the instruction needed to get caught up. Session 4 will be on the following Friday, January 13 @ 5:00 pm.

Rainbow Sampler Block of the Month: We still have a few kits available for this beautiful project. Go to https://mysewfab.com/module/subscription.htm?id=4205 and purchase the 10-month program. You will need to add it to your card, enter your payment details and check out. Don't be surprised when it says that you're paying $0 at this time because your credit card will automatically be billed on the 2nd of each month starting January 2, 2023. If you've signed up for this program already, I'll be sending out an email today with a reminder that you can stop in next week to pick up your kit. If you don't get an email from me and think you've signed up, please call the store @ 269-459-1725.



Beginning Sewing with Heidi: We still have a couple seats left in this class. It will be sew much fun! We're going to make a few easy projects and learn a lot about https://mysewfab.com/module/class/478300/beginning-sewing-with-heidi to read more about it and to sign up.

Software Inspirations - BERNINA Desginer+ V9: January 13th @ 1:00 we'll learn "Creativity with Stitches".

Embroidery Club: January 27th @ 1:00 we will work on Free Standing Lace. See https://mysewfab.com/module/class/403786/sew-fab-embroidery-club-adventure for more details and to sign up. Space is limited.


UPCOMING EVENTS
Tuesday, December 27, 4:00 - 7:00 - KLCQ Bias Squares.

Wednesday, December 28, 1:00-4:00 - KLCQ Snap Dragons.
Thursday, December 29, Noon - 5:00 - Sit 'N Sew. All are welcome. $3
Monday, January 2, 9:30-2:30 - Sit 'N Sew. All are welcome. $3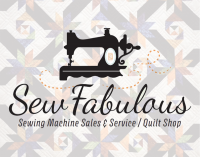 600 Romence Road, Ste 130 (in the Hillside Center)
Portage, MI 49024
(269) 459-1725
sewfabulous.mi@gmail.com
www.mysewfab.com
VIRTUAL TOUR: https://goo.gl/maps/SgXsRD12dAa1NU4s5

From I-94W take Exit 76, stay left to go south on Westnedge Ave.
Turn right on Romence Rd.
Turn right into the Hillside Center drive, just past the mall entrance on Romence Road.