Skip Navigation
Website Accessibility
Greetings from your friends at Sew Fabulous
Hello From Sew Fabulous,
WHAT'S HAPPENING
Happy 2023!
We've sold out of the Rainbow Sampler Block of the Month kits so if you signed up you can come in and pick up your kit for Month 1. (If you signed up to have it mailed, it will be sent out tomorrow. It would have been mailed today but the post office is closed for the holiday.) Thank you for all your interest in this beautiful quilt.
FOCUS ON REPAIRS AND MAINTENANCE

If you're thinking about bringing your machine in for a 'spa day', please remember that we'll need:
Standard/Zigzag foot so they can test the various stitches

Power cord

Foot Pedal

Bobbin - we don't have all the bobbins for every machine so we need you to bring one that goes with your machine

Embroidery foot and module for embroidery machines

We don't need your manual, thread or extra feet
TIPS FROM ROSS:
Never blow into your machine. You might think you're just blowing the dust out but in reality the dust ends up going deeper in the machine and can cause some serious damage to motors and bearings. In stead, use a Q-Tip or pipe cleaner to clean the dust out. If you don't know how to take the stitch plate off to clean under it, ask when you come in and someone will demonstrate and show you how.

Avoid inferior threads because many of them are made using shorter strands of fiber, then the manufacturers use a binding agent (like a resin or wax) to keep the threads together. This binding agent can cause problems in the upper parts of your sewing machine that can only be addressed by a qualified technician.

Change your needle regularly. If you want to know about the different types of needles, stop in the store and we'll give you a free booklet from Schmetz that explains the different types of needles and their uses.

Having a 'spa day' (actually, Ross doens't call it a 'spa day'...ever. He calls it a COA which stands for Clean, Oil, Adjust) at least once a year is always a good idea.

Once you pick up your machine, please check it out right away. Our services are guaranteed for 30 days - within the 30 days you can bring that machine back and there will be no labor charge for those repairs.
WHAT TO EXPECT WHEN YOU BRING IN YOUR MACHINE:
We'll fill out a form with your information and the details about your machine. For a COA, we will to ask if you've been having any problems we should be aware of so they can address them with their adjustments.
If you are having problems with the machine and aren't sure if you want to spend the money for a COA, we can do an inspection. This costs $40 and the technician will spend 30 minutes looking your machine over and testing it to see what the issue may be. If a simple adjustment fixes the problem, the $40 deposit usually covers the cost. Quite often the tech will recommend a COA. If you haven't authorized a COA when you drop off the machine, we'll call you and ask if we can do a COA. The $40 deposit will be applied to that cost.

Service Fees:
All machine services require a $40 deposit which is applied to your final bill.
COA for a Sewing machine or Serger: $105.00
COA for an Embroidery Machine (machine and embroidery module): $125.00
Inspection: $40
30 minutes of Labor: $40
Any parts that are needed will be added to the final bill
Scissor Sharpening - Large (blade >4"): $10
Scissor Sharpening - Small (blade <4"): $5
Scissor Sharpening - Pinking: $10

SPECIAL PROGRAMS
Software Inspirations: January 13, 2:00-4:30. This month we'll be learning about Corel, which works with the BERNINA Designer Plus software.



Mystery Quilt, Session 4: January 13, 5:00-7:00

In-House Retreat:

January 19-20-21. All spots are full. We're going to have so much fun!



Embroidery Club: January 27, 1:00-4:00. We'll be working on free-standing lace this month. Some beautiful projects can be found @ Embroidery Online. Learn more and sign up @ https://mysewfab.com/module/class/403786/sew-fab-embroidery-club-adventure


Beginning Sewing with Heidi: Three Saturdays - January 28, 10:00-Noon; February 4, 10:00-Noon, and February 11, 10:00-2:00. We still have 2 spots for this class. Read more about it and sign up @ https://mysewfab.com/module/class/478300/beginning-sewing-with-heidi



THIS WEEK:

WEDNESDAY: 9:30-Noon - Portage Quilters. New members welcome
THURSDAY: Noon - 5:00 - Sit 'N Sew. Everyone welcome. $3
FRIDAY: 5:00-7:00 - Mystery/Adventure Quilt, Make up/Catch up session. Cost:
If you have attended the 3 previous sessions: FREE
If you have attended 2 of the previous sessions: $15
If you have attended 1 of the previous sessions: $30
If you haven't been able to attend any previous sessions: $45
SATURDAY: 10:00-3:00 - Old Bag Ladies & Gents Club. We'll be making the 'I'll Drink to That' bag from ByAnnie. There is pre-work required for this class so if you plan to attend, be sure to complete Step 1, parts A-B-C before class. This means you'll need all the pieces cut prior to class. If you have any questions, please call the store and talk with Heidi.

Here are some of our newest products:
This patterns includes the metal frame that makes it stand up.



We have the entire line of the beauties:



Can you say "ooo"



We are now carrying some of the Superior brand of threads.



This little beauty is back in stock!

Have a Sew Fabulous week!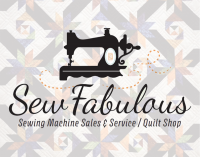 600 Romence Road, Ste 130 (in the Hillside Center)
Portage, MI 49024
(269) 459-1725
sewfabulous.mi@gmail.com
www.mysewfab.com
VIRTUAL TOUR: https://goo.gl/maps/SgXsRD12dAa1NU4s5

From I-94W take Exit 76, stay left to go south on Westnedge Ave.
Turn right on Romence Rd.
Turn right into the Hillside Center drive, just past the mall entrance on Romence Road.