Skip Navigation
Website Accessibility
Greetings from your friends at Sew Fabulous
Hello From Sew Fabulous,
WHAT'S HAPPENING
Greetings! I hope you're all doing well. We had a rare event happen today in Southwest Michigan...the sun came out! It was nice to see but I need to remember that this is just the beginning of January - it's a long time until I can count on the sun to be a little more reliable.
I don't know about you but I usually get an urge to organize my sewing space in January. (Actually, I always want to organize my sewing area because it always needs it; January is usually when I actually do it.) In years past I bought cheap cabinets and had my husband put them up on the wall, then we sold the house. It was nice while it lasted. Is there anything you like to focus on in January? Post something on Facebook and let me know.
NEW/INTERESTING ITEMS
We're always getting new fabrics and notions in. I'm expecting a couple shipments of fabric this week so watch my next newsletter for those pictures.
I really like the Gayle Loraine line from Art Gallery Fabrics. It's soft and fun. Take a look at all the free patterns from AGF (https://liveartgalleryfabrics.com/free-quilting-patterns/) and find the "Unforgettable" pattern. We have all the fabrics for this pattern in stock and ready for your spring project. Pictures really don't do this beautiful fabric justice.
SPECIAL PROGRAMS
CLEARANCE SALE ON SEWING MACHINES:
All sewing machines that we have in stock are 10% off our already low price. Come in and see what we have ready for you.
UPCOMING EVENTS
TUESDAY, January 10: 9:30-Noon. Caring Hearts
WEDNESDAY, January 11: 1:00-4:00. Snap Dragons.
THURSDAY, January 12: Noon-5:00. Sit 'N Sew. Open to all. $3 (get a coupon good for $3 off purchases that day only)
(Please note that Thursday Sit 'N Sew is cancelled next week)
FRIDAY, January 13: 2:00-4:30. Software Inspiration with Dawn Smith.
FRIDAY, January 13: 5:00-7:00. Mystery Quilt Adventure with Dawn Smith.
LOOKING AHEAD:
MONDAY, January 16: 9:30-2:30. Sit 'N Sew. Open to all. $3 (get a coupon good for $3 off purchases that day only)
MONDAY, January 16: 4:00-6:00. Focus on Free Motion with Shae Vaughn. (this session is full)
WEDNESDAY, January 18: 1:00-5:00. Wool Applique Club. Open to all. $3 (get a coupon good for $3 off purchases that day only)
THURSDAY - SATURDAY, January 19-21: Sew Fab In-House Retreat. All seats are sold. I'll be sending you an email later this week.
Have a wonderful week!
Heidi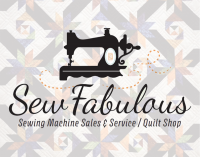 600 Romence Road, Ste 130 (in the Hillside Center)
Portage, MI 49024
(269) 459-1725
sewfabulous.mi@gmail.com
www.mysewfab.com
VIRTUAL TOUR: https://goo.gl/maps/SgXsRD12dAa1NU4s5

From I-94W take Exit 76, stay left to go south on Westnedge Ave.
Turn right on Romence Rd.
Turn right into the Hillside Center drive, just past the mall entrance on Romence Road.