Skip Navigation
Website Accessibility
Greetings from your friends at Sew Fabulous
Hello From Sew Fabulous,
WHAT'S HAPPENING
I hope you're all having a wonderful start to a new week. We had our first Focus on Free Motion class tonight and everyone had a great time. Shae is really in her element teaching free motion techniques. If you would like to join this class, we're adding a second session starting on February 27, 4:00-6:00. Go to https://mysewfab.com/module/class/483953/focus-on-free-motion---group-2 to sign up.
* IMPORTANT REMINDER:

Sit 'N Sew is cancelled this week due to the In-House Retreat. Sorry for the inconvenience, I hope we see you back here next week for Sit 'N Sew. Don't forget, we also have Sit 'N Sew on Monday mornings, too. What a great way to start a new week.
* Are you doing the Rainbow Sampler Block of the Month? We have 3 'Oops Kits' available if you think you want a little extra fabric just in case of a cutting faux pas. This kit contains a fat eighth of every fabric in the quilt (a total of 3 yards). If you would like us to hold one for you to pick up with next month's kit, please give us a call - 269-459-1725.


NEW/INTERESTING ITEMS
We're getting the new Janome Continental M17 at Sew Fabulous - it should be here next week. What's so special about this machine, you might ask. Well, it's just amazing....use this link to go to YouTube and watch Janome's introduction of this incredible machine.



All machines are 10% off our already low in-store price through the end of January. It's a great time to stop in and treat yourself to a new machine.


JASON YENTER'S DAZZLE QUILT - We have kits in stock in each of these color ways. Only 2 of each so stop in soon.

UPCOMING EVENTS
Tuesday, January 17 1:00-4:00: Cathy's Caps
Wednesday, January 18 9:30-Noon: Portage Quilters
Wednesday, January 18 1:00-5:00: Wool Applique Club
Thursday - Saturday, January 19-21 9:00-7:00 each day IN HOUSE RETREAT
If you attend the Software Inspirations class on the second Friday each month I have a couple things:
* Since the instructor was sick, we had to cancel January's session. We can move your registration to the next month if you'd like. Call the store so we can work all that out.
* The class in February has to be moved to the 3rd Friday (February 17) due to a scheduling conflict. Mark your calendars.
If you attend the Mystery Quilt class on the second Friday each month, we have to move the February class to February 17 for the same scheduling conflict. Please mark your calendars.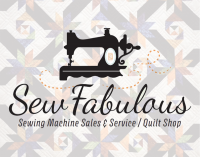 600 Romence Road, Ste 130 (in the Hillside Center)
Portage, MI 49024
(269) 459-1725
sewfabulous.mi@gmail.com
www.mysewfab.com
VIRTUAL TOUR: https://goo.gl/maps/SgXsRD12dAa1NU4s5

From I-94W take Exit 76, stay left to go south on Westnedge Ave.
Turn right on Romence Rd.
Turn right into the Hillside Center drive, just past the mall entrance on Romence Road.