Skip Navigation
Website Accessibility
Greetings from your friends at Sew Fabulous
Hello From Sew Fabulous,
WHAT'S HAPPENING
Greetings all you wonderful sewists and quilters. I hope you're having a wonderful week so far! I just want to start out by reminding you that we will be closing at 4:00 pm this Friday and all day Saturday to have our carpets cleaned. Thanks for understanding.

Have you voted today? Voting ends February 28. I hope we're your favorite Local Quilt Shop.
Are you still thinking about joining us for the Drummond Island Destination Retreat?

We still have a few openings and would love to have you join us. For details, go to https://mysewfab.com/module/class/453414/sew-fabulous-destination-retreat---drummond-island-mi or call Sew Fabulous @ 269-459-1725.
I've had requests for a few new classes and will be working to add the following to our schedule:
Beginning Quilting - Basics for Beginners

Serging - Reusable Grocery Bags

Beginning Sewing for Garment Construction and Crafting - The first class was a lot of fun and I'll be running the same program very soon and adding a few new projects too.
NEW/INTERESTING ITEMS
We received some adorable juvenile fabrics including these fun and easy Big Cat pillows.
Any new Riley Blake fabrics - so cute!
We have By Annie Patterns and supplies. Would you like to join us on March 4 when we're going to work on the Under Cover sewing machine cover. You can read more about it and sign up @ https://mysewfab.com/module/class/443839/old-bag-ladies--gents-club. Call Sew Fabulous if you have any questions - 269-459-1725.
SPECIAL PROGRAMS
February has been National Embroidery Month with special savings on Embroidery Machines and accessories.
I'm so excited to announce that March is a very special month here at Sew Fabulous because we're celebrating our 2nd Anniversary. So, we'll be having special savings, drawings and prizes from March 1-25. I'll have all the details in next week's newsletter so be sure to watch for that. You may start seeing 'teasers' in our social media posts as well. I hope we'll see you in March to help us celebrate.
UPCOMING EVENTS
THIS WEEK AT SEW FABULOUS:
Tuesday: February 21, 1:00-4:00: Cathy's Caps
Wednesday, February 22, 1:00-4:00: Snap Dragons
Thursday, February 23, Noon-5:00: Sit 'N Sew
Friday, February 24, 1:00-4:00: Embroidery Club
DON'T FORGET: Every Monday Morning you can come in for a Sit 'N Sew from 9:30-2:30. Bring your lunch, projects and friends and have a good time. $3.
If you have any questions about upcoming events, please feel free to call the store. 269-459-1725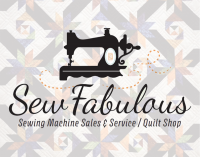 600 Romence Road, Ste 130 (in the Hillside Center)
Portage, MI 49024
(269) 459-1725
sewfabulous.mi@gmail.com
www.mysewfab.com
VIRTUAL TOUR: https://goo.gl/maps/SgXsRD12dAa1NU4s5

From I-94W take Exit 76, stay left to go south on Westnedge Ave.
Turn right on Romence Rd.
Turn right into the Hillside Center drive, just past the mall entrance on Romence Road.