Skip Navigation
Website Accessibility
Greetings from your friends at Sew Fabulous
Hello From Sew Fabulous,
WHAT'S HAPPENING
Greetings! I hope you're all doing well. The first week of our 2nd Anniversary celebration has been so much fun. We looking forward to drawing a name for our first drawing on March 9. If you're in the area, please stop by and check out all the new items in the store and don't forget to fill out an entry form.

I have some important news for anyone who purchased the Bernette 77 and would like to get a 1/4" foot with guide. I recently learned that there is a "Universal Presser Foot Holder" that allows your B77 to utilize snap on feet from the Bernette 37/37 series. The B38/37 has a 1/4" foot with guide! Yippee!Thank you, Catherine, for finding this. I have these two small accessories on order; please call the store if you'd like us to save them for you. Don't forget...All Bernette (and Bernina) accessories are 20% off for the month of March.

NEW/INTERESTING ITEMS
We just love this panel of quilt labels. What do you think?



Are you ready for the Hoffman Challenge? See all the details for the challenge, including images of the included fabrics, at https://issuu.com/hoffmanfab/docs/brochure-2022-23_challenge?ff=true . In summary:
SPECIAL PROGRAMS
2ND ANNIVERSARY SPECIALS:
* 20% off MSRP prices on all Sewing Machines March 1-25
* 15% off all fabric cut from the bolt (minimum one yard cut)
* 15% off all threads
* $2.99 for all pre-cut fat quarters
March 1-31: 20% off MSRP prices on all BERNINA machines
March 10-14 0% financing for 60 months on all BERNINA purchases over $3000
UPCOMING EVENTS
MONDAY: I know this is already past but I want to put out the invitation for next week. Sit 'N Sew - 9:30-2:30. Cost $3 which is returned when you make a purchase of at least $3. What a great way to start your week.
WEDNESDAY: March 8 1:00-4:00: Snap Dragons, a KLCQ group
THURSDAY: March 9 Noon-5:00: Sit 'N Sew. Cost $3 (returned with purchase)
FRIDAY: March 10 Software Inspirations is Cancelled
FRIDAY: March 10 5:00-7:00 Mystery Quilt.
LOOKING AHEAD:
MARCH 17, 4:00-6:00: Focus on Free Motion - SWIRLS. We still have 4 seats available in the Focus on Free Motion class
MARCH 24, 1:00-5:00: Embroidery Club will be working on Embroidered Greeting Cards
APRIL 4, 10:30-3:00: Old Bag Ladies and Gents Club - Please join us when we'll be making the the Folded Wallet from ByAnnie
OPPORTUNITIES:
*We still have 1 seat available on March 28 and 29 of the Sew Fabulous In-House retreat. Wouldn't you love 2 full days of sewing?

*Drummond Island Retreat: There are still 4 spaces available for this get away. See https://mysewfab.com/module/class/453414/sew-fabulous-destination-retreat---drummond-island-mi for all the details or call 269-459-1725
*The KLCQ is hosting a workshop with Lisa Ruble on March 22, 9:00-3:00 at the Zhang Senior Center in Portage, MI. You can read all about this workshop @ https://klcq.org/guild-activities/#meetings then click on REGISTER to sign up to attend. You will love learning from Lisa and spending time with a great bunch of quilters! Price for non-members is $55 (KLCQ members pay $45).
Take a look at all the other offerings KLCQ has for the year and maybe you will want to join KLCQ to take advantage of the reduced pricing for workshops. Membership with KLCQ is only $35/person annually. Also, every fall they have a members-only retreat that is "SEW MUCH FUN"!

Have a wonderful week.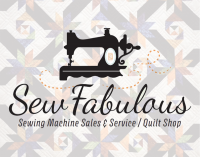 600 Romence Road, Ste 130 (in the Hillside Center)
Portage, MI 49024
(269) 459-1725
sewfabulous.mi@gmail.com
www.mysewfab.com
VIRTUAL TOUR: https://goo.gl/maps/SgXsRD12dAa1NU4s5

From I-94W take Exit 76, stay left to go south on Westnedge Ave.
Turn right on Romence Rd.
Turn right into the Hillside Center drive, just past the mall entrance on Romence Road.