Skip Navigation
Website Accessibility
Greetings from your friends at Sew Fabulous
Hello From Sew Fabulous,
WHAT'S HAPPENING
I'm so sorry that I missed sending out my newsletter last Mondy...the day just got away from me
. I'll try to make it up with a few fun things in this letter. Be sure to read to the end.



Special announcement

: Cancelling the Mystery Quilt Make Up Session on April 7.
OPPORTUNITIES




Quilting 101

: I've had many people asking for a learn to quilt class so here it is. This is a 3-Part Class, April 15, 22 and 29 starting at 10:00 to Noon. In this class you will learn basic quilting terminology, tools and techniques. The cost, $50, covers all three days (I'm sorry, no partial refunds.) Space is limited so sign up soon. To read more details and sign up for this class, go to @ https://mysewfab.com/module/class/492548/quilting-101.



Embroidery Club

: We still have a few openings for this fun class Friday (March 24 @1:00) afternoon. For details and to sign up, please go to https://mysewfab.com/module/class/403786/sew-fab-embroidery-club-adventure.



Sew Fab In-House Retreat

: There's one seat available all three days of this retreat (March 27-28-29 from 9:00am - 7:00 each day). If you've been on the fence about joining us for this fun time, please go to https://mysewfab.com/module/class/484859/sew-fab-in-house-retreat---march-2023 to sign up. Remember you have to add each of the days to your cart before you check out to reserve your spot.



Drummond Island Destination Retreat

. We still have 2 rooms available so if you're interested in a Northern Michigan escape, May 15-19, go to https://mysewfab.com/module/class/453414/sew-fabulous-destination-retreat---drummond-island-mi to read the details then stop at Sew Fabulous to sign up.
It's our 2nd Anniversary and we're celebrating with gifts.
Drawing winners:
MARCH 9, 2023: Yasmine Cameron
MARCH 17, 2023: Lori Roof
MARCH 25, 2023: Stay Tuned
Raffle Winning number: Stay Tuned (to be drawn on March 25, 2023)



FUN PROJECT #1

: Do you like to make small bags? Take a look at this fun Zipper Pouches project from https://weallsew.com

Speaking of making bags, I have a really fun one for our Old Bag Ladies and Gents Club on April 1 (click this link to sign up for the class). It's the Folding Wallet bag from ByAnnie. This pattern has been around a while; in fact, it's one of Annie's first patterns. There are 2 samples in the store for you to check out - one uses Soft and Stable and one uses interfacing and no quilting so it doesn't require as much pre-work. Wouldn't you like to make this beautiful little wallet out of your favorite fabrics from Sew Fabulous? Don't forget, until March 25 our fabrics are 15% off (minimum 1 yard cut from the bolt).
NEW/INTERESTING ITEMS
Pre-printed labels


We have this beautiful quilt hanging in the store - didn't Barb do a great job quilting it? We still have one kit available.



We have one more full kit of the Rainbow Sampler.

FUN PROJECT #2

: I just love the whimsical feel of this quilted pillow from our friends at Janome. What colors would you use? https://www.janome.com/inspire/projects/accessories/mix-it-pillow-tutorial/

SPECIAL PROGRAMS
In celebration of our 2nd Anniversary, all machines are 20% off MSRP through March 25th. Stop in and check them all out. SPECIAL NOTE: BERNINA machines will remain 20% off MSRP through the end of March.
Other special events:
* All fabric cut from the bolt is 15% off per yard (minimum 1 yard cut)
* All threads (Isacord, Mettler, Aurifil, King Tut, Bottom Line, Masterpiece and Eleganza) are 15% off
* There is one more drawing for special gifts - March 25. Be sure to fill out the entry form and drop it in the hat box when you visit us.
* A raffle drawing will also be held on March 25 for a $100 gift certificate to Sew Fabulous along with a few other gifts. You get a ticket for every $100 spent.
UPCOMING EVENTS
Monday, March 20, 9:30-2:30

: Sit 'N Sew. Cost is $3 which can be applied to purchases that day. Please pay at the front desk before going to the classroom.
Tuesday, March 21, 1:00-4:00

: Cathy's Caps.
Wednesday, March 22, 1:00-4:00

: Snap Dragons
Thursday, March 23, Noon-5:00

: Sit 'N Sew. Cost is $3 which can be applied to purchases that day.

Please pay at the front desk before going to the classroom.
Friday, March 24, 1:00-4:00

: Embroidery Club.
FUN PROJECT #3

: Did you know that March is National Quilting Month? In celebration of this, Moda has given us this free pattern - I love it! how about you? https://modafabrics.com/webfiles/fp_NationalQuiltingDay_ModaCandySpoolsMini.pdf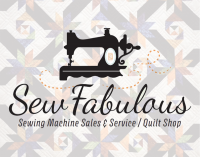 600 Romence Road, Ste 130 (in the Hillside Center)
Portage, MI 49024
(269) 459-1725
sewfabulous.mi@gmail.com
www.mysewfab.com
VIRTUAL TOUR: https://goo.gl/maps/SgXsRD12dAa1NU4s5

From I-94W take Exit 76, stay left to go south on Westnedge Ave.
Turn right on Romence Rd.
Turn right into the Hillside Center drive, just past the mall entrance on Romence Road.