Skip Navigation
Website Accessibility
Greetings from your friends at Sew Fabulous
Hello From Sew Fabulous,
WHAT'S HAPPENING


We've had a wonder time celebrating our 2nd Anniversary at Sew Fabulous. Thank you to everyone who shared it with us. Congrats to our drawing winners and do you have the winning raffle ticket #?


Quilting 101 is filling up. If you'd like to learn the basics of quilt piecing, this will be a great place to start. We're going to learn about tools and techniques then make a few things while we're doing it. This is a 3-day class on April 15, 22, and 29. If you're interested, please go to https://mysewfab.com/module/class/492548/quilting-101 to sign up. If you have any questions, please call Sew Fabulous @ 269-459-1725.

The Old Bag Ladies and Gents class is full for April 1. Our next one will be Friday, May 5 from noon-5:00. We'll be making the Snapshot bag from ByAnnie. https://www.byannie.com/snapshot.


NEW/INTERESTING ITEMS


Villa Rosa Designs: These adorable, affordable and totally doable quilt designs are great! We'll be adding more every month. They actually have 100's of post card sized patterns that are great for every level of quilter. Check them out at https://villarosadesigns.com/
BATIKS: Our collection is growing. Stop in an check them out.
SPECIAL PROGRAMS


These deals are still going on through the end of March.
April is National Serger Month. I know it would be a great month to have a beginning Serger class but I wasn't thinking strategically and I've penciled in Serger 101 for June 10 & 17. I'm going to try to get that in the class schedule this week - keep an eye out for it @ https://mysewfab.com/classes

UPCOMING EVENTS


Monday through Wednesday: In-House Retreat.
Thursday, March 30, Noon-5:00: Sit 'N Sew
Saturday, April 1, 10:30-3:00: Old Bag Ladies and Gents Club. This class is sold out. Join us in May when we'll be making the Snapshot bag.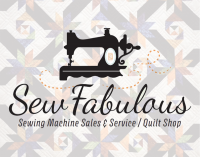 600 Romence Road, Ste 130 (in the Hillside Center)
Portage, MI 49024
(269) 459-1725
sewfabulous.mi@gmail.com
www.mysewfab.com
VIRTUAL TOUR: https://goo.gl/maps/SgXsRD12dAa1NU4s5

From I-94W take Exit 76, stay left to go south on Westnedge Ave.
Turn right on Romence Rd.
Turn right into the Hillside Center drive, just past the mall entrance on Romence Road.