Skip Navigation
Website Accessibility
Greetings from your friends at Sew Fabulous
Hello From Sew Fabulous,
WHAT'S HAPPENING
Happy April! I can't believe March flew by so fast. Besides having our 2nd Anniversary celebration from March 1-25, we had a lot going on including an in-house retreat that was tremendous fun! Now I'm in Nashville at the SVP (Singer, Viking, Pfaff) Headquarters learning all about these beautiful machines. I'm also going to bring home with me the amazing DITTO Pattern Projector system. If you've ever made a garment from a paper pattern, you know how challenging it can be to 1) Cut the fabric using a paper pattern, 2) Achieve the perfect fit. "Projector Sewing" is the first true innovation in patterns since 1860. Stop in and check it out later in April.


NEW/INTERESTING ITEMS
AURIFIL: Are you a fan of Aurifil Cotton thread? Many of us are so I decided to expand our line of Aurifil threads to include an amazing 126 beautiful colors. We're still waiting for delivery of the cabinet; the threads will be loaded in it as soon as it arrives.
VILLA ROSA DESIGNS: These little one-card patterns are simple and fun. They make up so quickly and easily! Most are great for beginners.
SPECIAL PROGRAMS
CLASSES:
QUILTING 101: April 15, 22, & 29

This class is full. If you are signed up for this class, you will need to bring your sewing machine (foot pedal, power cord, needle threads), pins and thread snips - the materials for the first class will be provided. During each session, you will be instructed on what to bring to the next session.
STITCHWISE CLEVER QUILTING - LEARNING TO LONGARM QUILT WITH THE BERNINA Q16


If you've ever had the desire to quilt your own quilts, this class is for you because you'll get to experience the joy of sewing on the BERNINA Q16. Please go to https://mysewfab.com/module/class/494635/stitchwise-clever-quilting-with-the-bernina-q16 for more information and to sign up. Space is limited so sign up soon.
SERGING 101

: We've had a lot of interest in this class because we're going to make a few projects with our sergers. If you're interested, please go to https://mysewfab.com/module/class/494636/serging-101 to read more about it and sign up. Space is limited so sign up soon. Also, if you need a refresher on how to set up and use your serger, please call the store to schedule a 1:1 with Heidi. Cost of 1:1 with Heidi is $25/half-hour.
The next in-house retreat will be July 20-22; there are only a few seats available so go to https://mysewfab.com/module/class/493814/sew-fab-in-house-retreat---july-2023 for more information and to sign up.
UPCOMING EVENTS
Wednesday, April 5, 9:30-Noon: Portage Quilters
Thursday, April 6, Noon-5:00: Sit 'N Sew
Monday, April 10, 9:30-2:30: Sit 'N Sew
If you have any questions on these events, please call us at 269-459-1725.
Have a wonderful week!
Heidi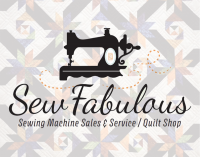 600 Romence Road, Ste 130 (in the Hillside Center)
Portage, MI 49024
(269) 459-1725
sewfabulous.mi@gmail.com
www.mysewfab.com
VIRTUAL TOUR: https://goo.gl/maps/SgXsRD12dAa1NU4s5

From I-94W take Exit 76, stay left to go south on Westnedge Ave.
Turn right on Romence Rd.
Turn right into the Hillside Center drive, just past the mall entrance on Romence Road.