Skip Navigation
Website Accessibility
Greetings from your friends at Sew Fabulous
Hello From Sew Fabulous,
WHAT'S HAPPENING
Here we are moving into Mother's Day weekend. Do you have any big plans? We are having our Stitchwise Clever Quilting Class on the BERNINA Q16s this Saturday. We have room for 2 more; so, if you're interested in learning more about this amazing quilting machine and learning great technique with Shae. Please call the store (269-459-1725) - cost is $55.
We're getting ready to depart for our Drummond Island Retreat - May 15-29. Those of you who have signed up should plan to stop in the store sometime between Wednesday (May 10) and Friday (May 12) to pick up your pack of goodies and info. LET THE FUN BEGIN!

How is your Aurifil thread collection coming?
THREAD COLOR OF THE WEEK: Aurifil #2250, $12.59 this week only.
The Thread Color of the Week is 10% off our regular price of $13.99.

There are still a few openings for the Chris Hoover workshop on Wednesday, May 17. Wouldn't you love to learn the techniques of this beautiful quilt from the designer herself? Go to klcq.org/guild-acivities to learn more and to sign up.
SPECIAL PROGRAMS
PFAFF: Almost all the Pfaff machines are on sale for very special Mother's Day Event with 0% financing available. Go to pfaff.com to see all the great deals then come in and talk with one of us to place your order. Remember, when you buy a machine at Sew Fabulous we will teach you how the machine operates and will provide free labor for the first year which includes a complete COA (Clean Oil Adjust). We really want you to love your new machine and understanding it is a big part of it. We're here for you! Don't forget to check out all the great deals on accessories, too!
BERNINA: Big event going on this month. The BERNINA Q16 with fold-down table is at an amazing price - $5999; that's $2000 off MSRP! To make it even better, there is 0% financing from May 12-17. This is a great opportunity, don't miss out! Also, the 770QE Kaffe Fasset machine is at a phenominal price this month - $7199 - normally $8499. That's a $1300 savings. Don't forget this machine comes with a special roller bag, dust cover and a wonderful Kaffe Fassett bundle of fabric. Come in an check out this fun and amazing machine!

JANOME: There are some great Mother's Day Event deals going on right now from Janome, as well. Go to Janome.com to learn more then stop in the store to check out the great machines in person. We'd love to show them to you.
UPCOMING EVENTS
MONDAY: 9:30-2:30: Sit 'N Sew. Bring a Lunch and enjoy some dedicated sewing time. Cost $3 which is returned with $3+ purchase that day.
TUESDAY: May 9, 9:30-Noon: Caring Hearts
May 9, 4:00-7:00: Bias Squares, a KLCQ group meeting
WEDNESDAY: May 10, 1:00-5:00: Snap Dragons, a KLCQ group meeting
THURSDAY: May 11, Noon-5:00: Sit 'N Sew. Cost $3 which is returned with $3+ purchase that day.
FRIDAY: May 12, 2:00-4:30: Software Inspirations.
May 12, 5:00-7:00: Mystery Quilt
SATURDAY: May 13, Noon-3:30: Stitchwise Clever Quilting with the BERNINA Q16. This was moved from May 6 to May 13. All who signed up have been contacted and we'll see you there. There were 2 people who can't attend this Saturday so we have room for a couple more - are you interested. Call Sew Fabulous @ 269-459-1725 and let us know.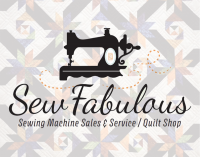 600 Romence Road, Ste 130 (in the Hillside Center)
Portage, MI 49024
(269) 459-1725
sewfabulous.mi@gmail.com
www.mysewfab.com
VIRTUAL TOUR: https://goo.gl/maps/SgXsRD12dAa1NU4s5
From I-94W take Exit 76, stay left to go south on Westnedge Ave.
Turn right on Romence Rd.
Turn right into the Hillside Center drive, just past the mall entrance on Romence Road.