Skip Navigation
Website Accessibility
Greetings from your friends at Sew Fabulous
Hello From Sew Fabulous,
WHAT'S HAPPENING
BIG ANNOUNCEMENT! Don't miss out on the fun of the 2023 SUMMER JUMP SHOP HOP. We have passports at Sew Fabulous, just stop in an pick up yours for $5. There are a whopping 26 shops participating in this event so you'll have lots of fun visiting all of them.
AURIFIL THREAD OF THE WEEK:#2115 (10% off the regular price)
BERNINA has 60 months with 0% financing on purchases over $3000 until Wednesday. If you've been looking at the wonderful BERNINA Q16 with Folding Table, now is the time - it's got a Sew Fabulous sale price of $5999 through the month of May (MSRP $7999). And, don't forget the great price BERNINA has on the BERNINA 770 QE Plus Kaffe Fassett Edition - $7199 (MSRP $8499).
NEW/INTERESTING ITEMS
KITS: We have been making up quick, easy and fun kits for the Villa Rosa Designs. I'll post some pictures next week but don't let that stop you from coming in and seeing what we've come up with!
Have you tried the Quilters Select Rulers? They are absolutely phenomenal! They have a yellow 'grippy' coating on the back side that holds your fabric tight while you cut! If you've never seen or tried them, come in and let us show you how great they are!

UPCOMING EVENTS
MONDAY: 9:30-2:30: Sit 'N Sew. Bring a Lunch and enjoy some dedicated sewing time. Cost $3 which is returned with $3+ purchase that day.
MONDAY: 4:00-6:00: Focus on Free Motion, Class 5 Florals. https://mysewfab.com/module/class/484201/focus-on-free-motion----class-5---florals. If you've been watching these classes come and go and wish you had signed up, Shae will be repeating the entire 6-session course starting in July. Watch the newsletter for more information.
TUESDAY: 1:00-4:00: Cathy's Caps
WEDNESDAY: 9:30-Noon: Portage Quilters.
THURSDAY: Noon-5:00: Sit 'N Sew. Cost $3 which is returned with $3+ purchase that day.
All this week: I'm on Drummond Island with a wonderful group of quilters for our Sew Fabulous Desitnation Retreat. It's beautiful up here. Here is a picture of the bay from our cottage along with a pic of the cottage.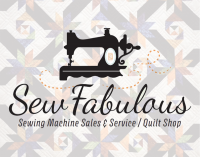 600 Romence Road, Ste 130 (in the Hillside Center)
Portage, MI 49024
(269) 459-1725
sewfabulous.mi@gmail.com
www.mysewfab.com
VIRTUAL TOUR: https://goo.gl/maps/SgXsRD12dAa1NU4s5
From I-94W take Exit 76, stay left to go south on Westnedge Ave.
Turn right on Romence Rd.
Turn right into the Hillside Center drive, just past the mall entrance on Romence Road.