Skip Navigation
Website Accessibility
Greetings from your friends at Sew Fabulous
Hello From Sew Fabulous,
WHAT'S HAPPENING
We had a FABULOUS time last week for the Summer Jump Shop Hop! We met so many wonderful people and truly hope all who participated has a great time and will come back and visit us soon!
I have a couple pieces of exciting news:
From BERNINA: The newest member of the Kaffe Fassett Machine family is here! Come in and see how beautiful it is - the pictures really don't do it justice.
It's the BERNINA 570 QE (which you can get with or without the embroidery module but we really want you to get the embroidery module so you get the absolutely adorable bag and gift box that comes with it). Stop in and see it today. If you pre-order before June 24, you'll get an additional free gift - your choice of a $100 gift certificate to Sew Fabulous or a free BERNINA Walking Foot #50 ($209 value).
Drummond Island Retreat is ready for your reservation. We're taking reservations for our next Destination Retreat on Drummond Island. It will be September 18-22, 2023. Go to https://mysewfab.com/sew-fabulous-destination-retreat---drummond-island-mi-fall then come into the store and make your reservation.
THREAD OF THE WEEK: Aurifil #2214 is 10% off our regular low price.

NEW/INTERESTING ITEMS
Kits are now available for these beautiful quilts

We're adding to the Villa Rosa pattern and kit collection every month. Stop in and see what's new.

I love these beautiful blue collections.

And how about some holiday collections. We have new Halloween and Christmas fabrics so you can get a jump on those fall projects.

We are still clearning out a few of our top-of-the-line machines to make room. These deals don't come along very often so check them out while you can. 35% off MSRP on the floor models of BERNINA 880, BERNINA 790, PFAFF Creative Icon, and JANOME M17. All are amazing embroidery, quilting and sewing machines.
SPECIAL PROGRAMS
UPCOMING EVENTS
MONDAY: 9:30-2:30 - Sit 'N Sew. Bring a Lunch and enjoy some dedicated sewing time. Cost $3 which is returned with $3+ purchase that day. Make plans now to come next Monday.
TUESDAY, June 20, 1:00-4:00 - Cathy's Caps
WEDNESDAY, June 21, 9:30-Noon - Portage Quilters
WEDNESDAY, June 21, Noon - 5:00: Wool Applique Club. This month we will be working on these adorable key ring fobs that you make with your initial or you may bring your own project. Letter templates, ribbon, freezer paper and some embellishments will be available. Anyone who'd like to do the key fob project just bring some wool/felt and embellishments as you like. There should be plenty of time to work on our other projects as well. Cost $3 which is returned with $3+ purchase that day.
THURSDAY: Noon-5:00: Sit 'N Sew. Cost $3 which is returned with $3+ purchase that day.
FRIDAY, June 23, 1:00-5:00 - Embroidery Club: For details on this month's project, please go to https://mysewfab.com/module/class/403786/sew-fab-embroidery-club-adventure. There is still room for a few more in the class if you'd like to join us in making this adorable travel journal.
BY THE WAY, HAVE YOU HEARD MY AD ON THE RADIO - COOL 101 (https://www.wqxc.com/)
Have a great week!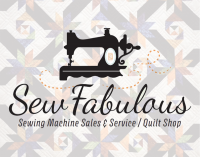 600 Romence Road, Ste 130 (in the Hillside Center)
Portage, MI 49024
(269) 459-1725
sewfabulous.mi@gmail.com
www.mysewfab.com
VIRTUAL TOUR: https://goo.gl/maps/SgXsRD12dAa1NU4s5
From I-94W take Exit 76, stay left to go south on Westnedge Ave.
Turn right on Romence Rd.
Turn right into the Hillside Center drive, just past the mall entrance on Romence Road.